BreakTime BreakDown 13MAR2014 – Lohan's List Of Celebs She's Done The Deed With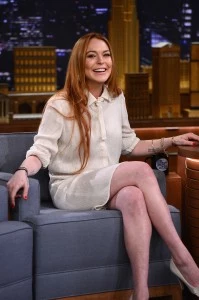 BreakTime Breakdown takes a look at whats going on around Hollywood and the world.
Lohan's List Of Dirty Deeds Done With Celebrities
Lindsay Lohan was out drinking with some friends and decided to list everyone shes ever done the deed with in the show biz business.  Apparently some of the members on the list include Adam Levine, Zac Efron, Justin Timberlake.  The list goes on including 36 different name.  Some of them married.
Stacey Keibler Is Married And Pregnant
Ex-WWE star Stacy Keibler is pregnant.  She is expecting her first child with her husband Jared Pobre.  They just got married over the weekend after dating for only 8 months.  They began dating after she dumped George Clooney because he didn't want to commit.
Coldest Six Months Since…
If you think this winter is colder than most, you're definitely right.  It turns out this is the worst winter the entire us has had since 1912.  77% of the us has been below normal temperatures since October 1s.
Worst Parent Of The Year?
A toddler showed up to daycare, and one of the workers at the child care center found 48 envelopes of heroin in the 2 year old kids jacket.  It turns out the father stashed them in the jacket and the child had no idea.
Today's CELEB Birthdays– 3/13/14
~~Actress Dana Delaney ("China Beach") is 58. (Desperate Housewives; Body of Proof)
~~Actor, Emile Hirsch is 29 (Speed Racer; Into The Wild)
~~Actor, William H. Macy is 64 (Fargo; Magnolia; Jurassic Park III; Shameless)
~~Actor Danny Masterson ("That '70s Show") is 38.
~~Actress Glenne Headly ("Confessions of a Teenage Drama Queen," "Mr. Holland's Opus") is 59.
~~Kathy Hilton (Paris & Nicole's mom) is 55
~~Actor, Noel Fisher (Shameless) is 30 (Battle Los Angeles)
~~Comedian Robin Duke is 60
~~Actress, Annabeth Gish is 43 (Double Jeopardy, X-Files' Monica Reyes, The West Wing)
~~Actress Tracy Wells ("Mr. Belvedere") is 53.
MUSICALLY:
~~Bassist Adam Clayton (of U2) is 54.
~~Drummer Matt McDonough (of Mudvayne) is 45.
~~Rapper/actor Common is 42
~~Rapper Khujo (of Goodie Mob) is 42.
~~Singer Glenn Lewis is 39
~~Singer-songwriter Neil Sedaka is 75.
~~Singer,  Natalie Albino (of Nina Sky) is 28
~~Singer,  Donald "Donny" York (of Sha Na Na) is 65
~~Country singer Jan Howard is 84