BreakTime BreakDown 24APR2014 – Live-Action Barbie Movie In The Works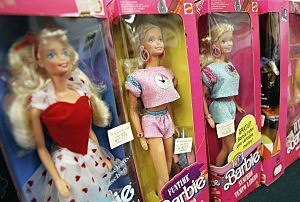 BreakTime Breakdown takes a look at whats going on around Hollywood and the world.
Can't imagine this movie will be too good.  Sony pictures and Mattel (the toy company) are teaming up to produce a live-action comedy built around Barbie.  Apparently, the film will have Barbie being like a modern-day Mary Poppins who uses both her personal and professional skills to improve people's lives.
Ronald McDonald Gets New Threads
And if you make your way into a McDonald's anytime soon, you might see a certain clown with a new Look.  Ronald McDonald apparently keeps up with clown fashion because his wardrobe just got redesigned.  The yellow jumpsuit with red striped sleeves have been replaced with a mustard yellow cargo pants and red and white striped rugby shirt.
Avril Lavigne New Music Video Taken Down
Avril Lavigne has a new music video out called 'Hello Kitty'.  In the video Avril dances around in a tutu while yelling Japanese phrases all while a bunch of Asian dancers, are behind her.  It was up for awhile until people started saying it was racist.  It has since been taken down.
Today's CELEB Birthdays– 4/24/14
~~Actress Shirley MacLaine is 80. (Warren Beatty's sister; The Apartment; Guarding Tess, Terms of Endearment; In Her Shoes; Downton Abbey; many more)
~~Actress-singer Barbra Streisand is 72. (Funny Girl, Evergreen, Prince of Tides, The Way We Were, The Mirror Has Two Faces, Meet The Fockers)
~~Actor-comedian Cedric the Entertainer is 50. (The Original Kings of Comedy, Steve Harvey Show's Cedric Jackie Robinson, Barber Shop movies, The Honeymooners (2005), Codename: The Cleaner; A Haunted House 1 & 2; The Soul Man; many more)
~~Actor Eric Bogosian is 61. (Talk Radio; Under Siege 2; Law & Order: Criminal Intent; Deconstructing Harry; many more)
~~Actor Michael O'Keefe ("Roseanne") is 59. (Chevy Chase's young golf partner in 'Caddyshack')
~~Actor Djimon Hounsou ("Blood Diamond," "Amistad") is 50. (Gladiator; Lost)
~~Actress Melinda Clarke ("The O.C.") is 45. (Entourage; Nikita)
~~Actor Eric Balfour ("24″) is 37. (The Texas Chainsaw Massacre 2003; Skyline)
~~Actress Rebecca Mader ("No Ordinary Family," "Lost") is 37. (Once Upon A Time)
~~Actor Austin Nichols ("One Tree Hill") is 34. (The Day After Tomorrow)
~~Actress Sasha Barrese ("The Hangover") is 33.
~~Actor Aidan Gillen ("Game of Thrones") is 46 (The Wire)
~~Actor Rory McCann ("Game of Thrones") is 45 (Alexander; Clash of the Titans 2010)
~~Designer, Jean-Paul Gaultier is 62
~~Actor, Derek Luke is 40 (Antwone Fisher; Friday Night Lights, Catch a Fire, Miracle at St. Anna)
~~Retired baseball star, Chipper Jones is 42
~~Baseball star, Carlos Beltran is 37
~~Former baseball star, Omar Vizquel is 47
MUSICALLY:
~~Singer Kelly Clarkson ("American Idol") is 32.
~~Singer, Danny Gokey is 34 (American Idol 2009)
~~Singer-bassist Jack Blades (of Night Ranger) is 60
~~Bassist Brian Marshall (of Creed) is 41.
~~Singer-bassist Tyson Ritter (of All-American Rejects) is 30
~~Bassist Billy Gould (Faith No More) is 51
~~Drummer Doug Clifford (Creedence Clearwater Revival) is 69
~~Singer-keyboardist Rob Hyman (of The Hooters) is 64.
~~Bassist David J (Love and Rockets, Bauhaus) is 57
~~Drummer Patty Schemel (Hole) is 47
~~Drummer Aaron Comess (of the Spin Doctors) is 46.
~~Bassist Nigel Harrison (Blondie) is 63
~~Pop Singer, Alejandro Fernandez is 44
~~Drummer, Boris Williams (The Cure) is 57
~~Country singer Richard Sterban (of the Oak Ridge Boys) is 71
~~Country Singer, Rebecca Lynn Howard is 35