BreakTime BreakDown 27MAR2014 – College Course On Miley Cyrus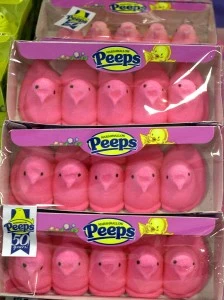 BreakTime Breakdown takes a look at whats going on around Hollywood and the world.
Now I am not a big fan of this particular candy, but I know a few people that will be.  Dunkin' Donuts is releasing a special don't in time for the holiday.  Peeps donuts.  It's just so sugary.  The donuts will be flower shaped and come with a variety of flavors, all topped of course with those marshmallow peeps.
Just another step towards Starbucks taking over the world.
Zac Efron got into a brawl in downtown L.A.  in a neighborhood he probably shouldn't have been.  Apparently Efron ran out of gas and when they threw a bottle near 3 other people and it shattered, the 3 transients thought it was hurled at them and the fight broke out.  If you recall Zac just had his jaw broken in November, so probably not the best time right now to get into a fight.
There is a college class on Miley Cyrus.  Skidmore College in New York has a course this summer called 'The Sociology of Miley Cyrus: Race, Class, Gender, and Media.'  The class will be using Miley as a base point to help students explore certain themes in media.
Today's CELEB Birthdays– 3/27/14
~~Movie Director, Quentin Tarantino is 51 (Pulp Fiction; Reservoir Dogs; Kill Bill movies; Inglourious Basterds; Django Unchained; many more))
~~Actress, Pauley Perrette (NCIS) is 45
~~Actress, Brenda Song is 26 (The Suite Life of Zack and Cody)
~~Actor, Michael York is 72 (Cabaret; Logan's Run; Austin Powers' Basil Exposition)
~~Actor, Kevin Corrigan is 45 (The Departed; Superbad; Pineapple Express; Fringe)
~~Actor, Nathan Fillion ("Castle") is 43 (One Life to Live, Serenity)
~~Actor, Jerry Lacy is 78 (Play It Again Sam; Dark Shadows' Rev Trask, Young and The Restless)
~~Actress Emily Ann Lloyd ("Something So Right") is 30.
~~Actress, Elizabeth Mitchell is 44 (Frequency, ER's Dr. Kim Legaspi; Lost; V)
~~Actor, Austin Pendleton is 74 (Short Circuit, Simon, Hello Again; Finding Nemo)
~~Model/actress, Talisa Soto is 47 (License to Kill; Mortal Kombat movies)
~~Former NFL quarterback, Randall Cunningham is 51
MUSICALLY:
~~Mariah Carey is 44.
~~Singer Fergie Duhamel (of Black Eyed Peas) is 98.
~~Singer, Jessie J is 26
~~Keyboardist Tony Banks (of Genesis) is 64
~~Keyboardist-guitarist Andrew Farriss (of INXS) is 55.
~~Saxophonist Dave Koz is 51.
~~Bassist Johnny April (of Staind) is 49.
~~Singer, Jann Arden is 52
~~Drummer Brendan Hill (of Blues Traveler) is 44.
~~Drummer, Derrick McKenzie (Jamiroquai) is 50