BreakTime BreakDown 31MAR2014 – Bacon For Weight Loss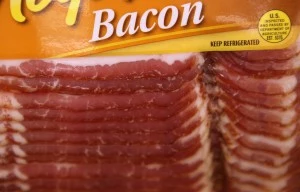 BreakTime Breakdown takes a look at whats going on around Hollywood and the world.
Want To Lose Weight? Drink Bacon!
If you're looking to lose weight there is a new product out there to help.  BaconTrim, is a bacon flavored weight loss drink.  It has a rich smooth and meaty taste meant to be a meal replacement.  They also have a product called GravyTrim as well to help with weight loss.
Now this movie I still have not seen but it's breaking records.  It's made 1.072 billion dollars.  'Frozen' is now the highest-grossing animated film ever made even passing Toy Story 3.  It has even taken the 10th place on list of biggest global blockbusters of all time.  It's the biggest Disney or Pixar animated film of all time in over 27 countries.  Think it's time I actually watch it.
Get Plastic Surgery To Look Like …
So some of us have certain things we would like changed.  And some of us even spend a little money and some plastic surgery to do it.  Well one woman spent over $25,000 in order to look more like Jennifer Lawrence.  She goes by the name 'Kitty' and had 6 plastic surgery procedures to alter her appearance.  Her husband wasn't too happy and felt the money would be better going towards their daughter's college fund but Kitty had saved it as part of her 'me' fund anyway and opted to ignore him.  This is just odd, if you recall there was a story last week about a guy who spent over $200,000 to look like Justin Beiber.
What would you get done for plastic surgery if you could?
Today's CELEB Birthdays– 3/31/14
~~former Vice President Al Gore is 66
~~Actor Christopher Walken is 71. (The Deer Hunter; Pulp Fiction; Catch Me If You Can; The Stepford Wives; Seven Psychopaths; Stand Up Guys; many more)
~~Actress Rhea Perlman (Cheers!) is 66 (Danny Devito's wife)
~~Actor, Ewan McGregor is 43 (Trainspotting; Moulin Rouge; Star Wars: Episode I – The Phantom Menace; Star Wars: Episode II – Attack of the Clones; Star Wars: Episode III – Revenge of the Sith; Big Fish; Angels & Demons; The Ghost Writer; Haywire; The Impossible; Jack the Giant Slayer; more)
~~'Gossip Girl' star Jessica Szohr is 29 (Fired Up: Piranha)
~~Actress, Shirley Jones (The Partridge Family) is 80
~~Actor, Gabe Kaplan (Welcome Back, Kotter) is 69
~~Actor, Richard Chamberlain is 80 (Shogun; Dr. Kildare; The Thorn Birds; Brothers & Sisters)
~~the evil midget/dwarf/little person in 'Bad Santa', Tony Cox is 56 (Me, Myself & Irene)
~~Actor, William Daniels (the voice of K.I.T.T. on Knight Rider) is 87 (St. Elsewhere; Boy Meets World )
~~Actor Ed Marinaro (Hill Street Blues, Sisters) is 64
~~Actor, Marc McClure (Jimmy Olsen in the first Superman movie) is 57
~~Actor, Josh Saviano is 38 (The Wonder Years's Paul Pfeiffer)
~~NHL legend Gordie Howe is 86
MUSICALLY:
~~Musician Herb Alpert is 79. (band, the Tijuana Brass)
~~Guitarist Angus Young (of AC/DC) is 59
~~Americana roots/rock singer, Ryan Bingham is 33
~~Country Singer/songwriter, John D. Loudermilk is 80
~~Bassist Bob Crawford (of The Avett Brothers) is 43
~~Rapper, Tony Yayo is 36
~~Singer, Mad Cobra is 46
~~Singer, Trenyce (American Idol finalist 2008) is 34