Justin Timberlake's '20/20 Experience Vol. II' to Blend New and Old Tracks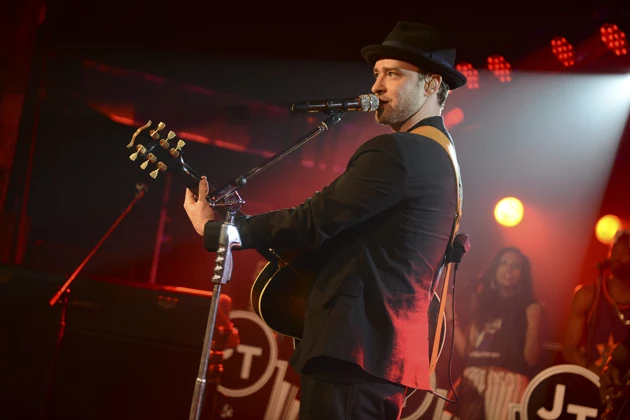 Questlove spilled the beans about Justin Timberlake's 'The 20/20 Experience' having two volumes, with the second arriving in November. Now we've got more details about the material that the sequel to his smash will feature.
Producer Jerome (J-Roc) Harmon, a close associate of Timbaland — who famously produced 'The 20/20 Experience' — dished on the followup to Billboard.
"Before we came to the 10 [songs on "The 20/20 Experience"] that he wanted and the two bonus tracks, we had over 30, 40 tracks," Harmon revealed. "So I think he's going to go in, and we're going to take some of the stuff that we've already done, and of course create more music at the same time."
Harmon also dished on Timberlake's current hit, 'Mirrors' — and exactly how it got to be such a lengthy track. "'Mirrors' was something we started working on in 2009, and he just shelved it," Harmon admitted. "He's like, 'I'm gonna save this one, and this is gonna go on my album.' We never knew when he was going to put it out — we were like, 'Aw man, you're in movies now!' We could have waited another 10, 15 years. But then he surprised us last year and said he was ready, and he brought ['Mirrors'] over to the project as well."
"We segued each piece to go into another song, so if you were to break it up, that second part of 'Mirrors' is like a song by itself," Harmon said of the production for the track. "Once we got all the songs that [Timberlake] knew he wanted on this album, then that's when we began to tie everything together, and the second part just fell in order."
Watch the Justin Timberlake 'Mirrors' Video
Subscribe to MIX 108 on

Source:
Justin Timberlake's '20/20 Experience Vol. II' to Blend New and Old Tracks