Miley Cyrus Might Get Spanked By Katy Perry, Poses With Sex Toy [NSFW Photos]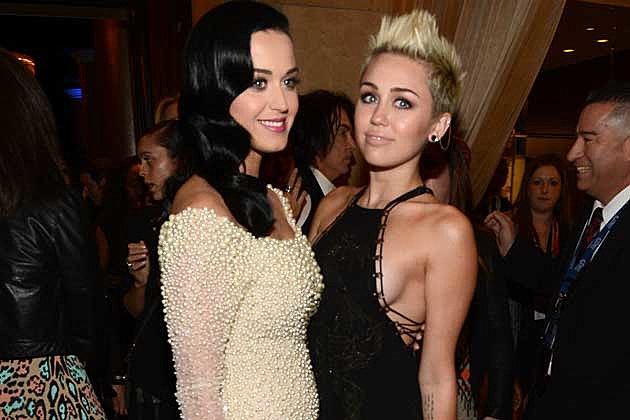 Well, that didn't take long! Shortly after Miley Cyrus lashed out at Katy Perry and John Mayer, the 'Dark Horse' singer responded!
To recap: Katy told an Australian breakfast TV show that she pulled away from Miley's kiss because "God knows where that tongue has been."
Miley responded by tweeting she was glad Katy broke up with John, implying he gets around. Yiiiikes.
While neither party is faultless, we hope this whole thing will be put to rest with Katy's light-hearted response to Miley.
@MileyCyrus Oooo gurrrl I'm gonna give you the BIGGEST spanking when I see you in the UK bb!

— Katy Perry (@katyperry) March 6, 2014
Miley's slightly below-the-belt remark isn't the only controversial thing the singer has been tweeting. Earlier this week, she shared pics of herself posing with a sex toy.
— Miley Ray Cyrus (@MileyCyrus) March 4, 2014
#tourlifepic.twitter.com/A9xeAc2ORO

— Miley Ray Cyrus (@MileyCyrus) March 4, 2014

Source:
Miley Cyrus Might Get Spanked By Katy Perry, Poses With Sex Toy [NSFW Photos]