Trampled by Turtles Song Included on Soundtrack for "The Way Way Back" Movie Starring Steve Carrell [VIDEO]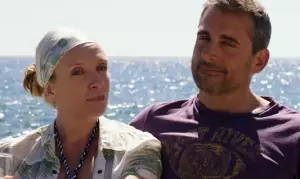 Sundance Movie Festival 2013 Official Selection movie, "The Way Way Back" opens in select theaters on July 5th (not in the Twin Ports, though.)  Aside from an all-star cast that includes Steve Carrell, Toni Collette, Allison Janney, AnnaSophia Robb, Sam Rockwell, Maya Rudolph, Rob Corddry and Amanda Peet, the soundtrack, available today, includes one of my favorite songs, Trampled by Turtles' "Alone" from their "Stars and Satellites" album.
Anyone else have a station wagon growing up?  Did you ever call, "the way way back?"  You know, the seat that faced the back door?  I love this title, and I can't wait to see the movie.  The story centers on Duncan, a 14 year old boy forced to spend his summer vacation with his mother, Pam (Toni Collette), her overbearing boyfriend, Trent (Steve Carell), and his daughter Steph (Zoe Levin). Having a rough time fitting in, the Duncan finds an unexpected friend in Owen (Sam Rockwell), manager of the Water Wizz water park.
Subscribe to MIX 108 on