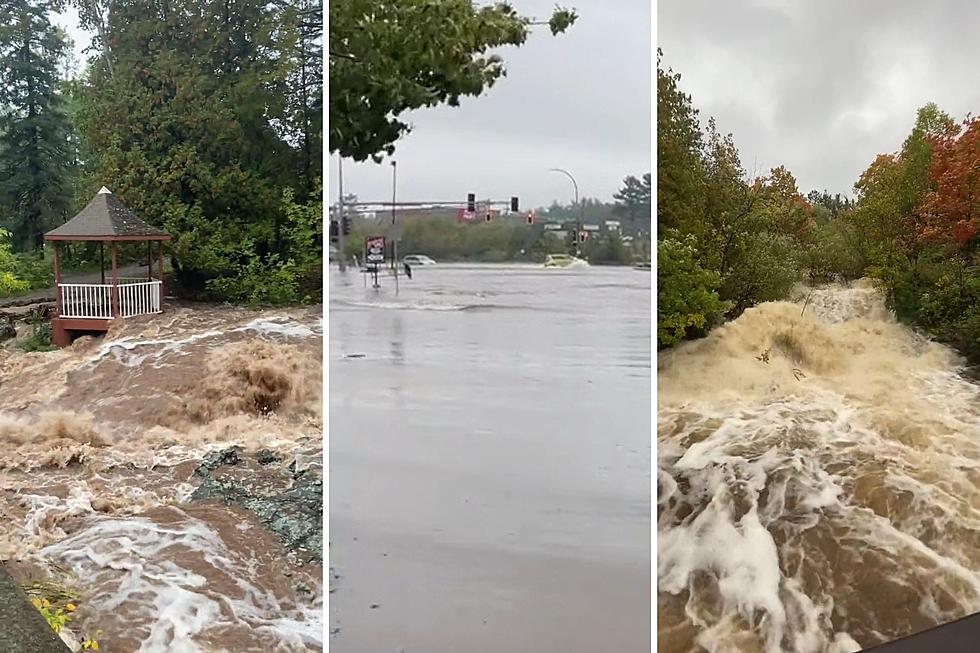 BREAKING: City Of Duluth Continues To Respond To Weekend Flooding, Update Road Closures
WoodyUnruh/BriggsLeSavage/AlexLaitalaMN on X (Twitter)
The City of Duluth issued an update on Sunday evening on the flooding situation the city is dealing with after parts of the Northland received several inches of rain over the weekend.
In the City of Duluth's most recent update, officials explained the latest status of areas of the city dealing with flooding impacts.
The National Weather Service in Duluth reported getting 4 inches of rain at their location by the Duluth Airport as of Sunday afternoon.
While city officials say while rain activity has reduced over the day, a number of rivers and streams in the area continue to swell beyond their normal boundaries, causing some impacts to roadways and other areas around the city.
City officials continue to ask residents to stay away from all standing water and moving water. They ask that you do not attempt to approach streams, rivers, or creeks to capture photographs or video while conditions remain dangerous.
READ MORE: How Much Rain Did The Northland Get? Here Are The Latest Reports
They also ask that you stay away from any manhole covers that may have dislodged due to potential health and safety concerns. Standing water can be very dangerous and can mask depth and hazards under the water, so they ask that you do not enter the water by any method, including driving into it. They recommend that you turn around rather than drive through it.
Furthermore, if you come upon flooding while driving, you are asked to call 911 to report it. Manhole cover disruptions and minor flooding issues should be reported to Duluth Public Works and Utilities via their 24-hour emergency hotline, which is (218) 730-4000.
Some roads remain closed and there are some sanitary sewer and other impacts being reported. Here's the latest from city officials as of their Sunday evening update:
Road Closures
These road closures are broken down by the stream or river leading to the closure:
Chester Creek

Niagara Street
Norton Road at the crossing nearest Rice Lake Road

Tischer Creek

Abbotsford Avenue is closed at the back of the Glen Avon ballfields
W Oxford Street at Tischer Creek has water over the roadway. The road is closed at Abbotsford, and at either side of the creek.
W St. Andrews Street at Tischer Creek has water over the roadway; the road is closed on either side of the creek.
Anna Street at Tischer--water over the roadway; the road is closed on the upper side of Anna Street and at Columbus Avenue.
Columbus Avenue at Anna Street intersection/Tischer Creek crossing has water over the roadway; it is closed at Arrowhead Road and back at Hardy Street.

Miller Creek

Maple Grove Road is closed at TH53 to past Target. The Mall Drive intersection is closed.
Mall Drive is closed near Haines Road with water over the roadway.
Sanitary Sewer Impacts
City officials say four sanitary sewer lift stations, located at 22nd Avenue E near the lake, 60th Avenue E near the lake, Dodge Street, and Lift Station 6 near the Corner of the Lake also experienced overflows today.
They explain that while these appear to have peaked and are beginning to abate, Utility Operations continues to monitor these and work with the Western Lake Superior Sanitary District to mitigate issues related to flooding.
Videos Of The Flooding
A number of videos and images of flood impacts around the area continue to surface online.
Here's a look at Miller Creek on Sunday afternoon.
Here's a look at Lester River
Here's a look at the area near the intersection of Mall Drive and Maple Grove Road, located near Target and Grandma's Restaurant.
Here's a look at Amnity Creek in the Lester Park area
Here's a look at the area of Columbus Avenue earlier in the day on Sunday
11 of the Most Devastating Weather Disasters in Minnesota Throughout The Years
We might be full of lakes and "nice" but Minnesota has had its fair share of horrible and nasty weather. Throughout the years we've had floods, fires, storms that have crushed stadium roofs flat, and tornadoes that have destroyed lives.