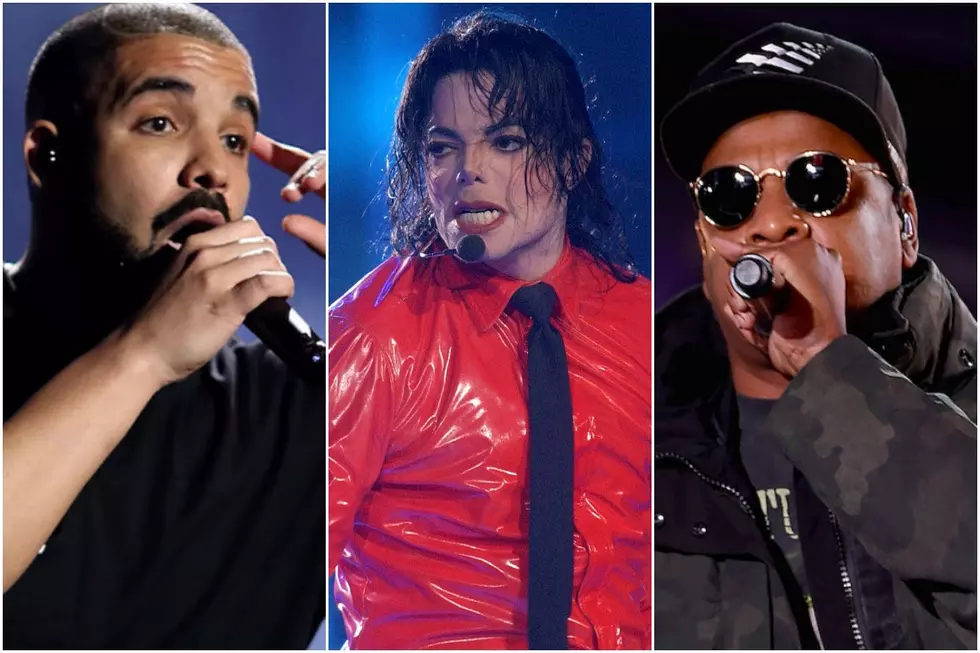 Jay-Z, Michael Jackson Guest on Drake's New Double Album 'Scorpion' [STREAM]
Christopher Polk/Gary Gershoff/Vince Bucci, Getty Images
Drake's much-anticipated Scorpion has arrived, and the new double-album features some impressive guest stars, including Jay-Z and a previously unreleased vocal performance from Michael Jackson.
The 25-track opus stands apart from the recent wave of artists releasing shorter albums, such as the recently completed five-album series of Kanye West-produced seven-song efforts. It's also largely a one-man show, as special guest credits on the project are relatively scarce. Jay-Z turns up on "Talk Up", while Static Major and Ty Dolla Sign throw an assist on "After Dark."
The stand out feature is a previously unreleased performance from Jackson, which forms the hook to the song "Don't Matter to Me." Longtime Jackson collaborator, 76-year-old Paul Anka—famous for songs like "Puppy Love" and "Put Your Head on My Shoulder"— also shows up on the sprawling project.
Of course, following that scathing Pusha T diss, "The Story of Adidon," where Pusha references Drake's previously unacknowledged son, fans wanted to know if Drizzy would make reference to the info since he never released a reply diss. He does several times on the album, including on one of the project's early tracks, "Emotionless."
"I wasn't hiding my kid from the world, I was hiding the world from my kid," he raps on the track. "From empty souls who just wake up and looked to debate. Until you starin' at your seed, you can never relate."
Then, on "8 Out of 10," he dismisses Pusha's claims that he's a deadbeat dad: "The only deadbeats is whatever beats I been rappin' to / Never a matter of could I or should I / Kiss my son on his forehead and kiss your ass goodbye / As luck would have it I'm settled into my role as the good guy."
He also says he's not about "runnin to blogs" when there's major things happening in his life. "They always ask, 'Why let the story run if it's false?' / You know a wise man once said nothin' at all / I'm exhausted and drained I can't even pretend," he explains.
On "March 14" Drake goes into detail about his strained relationship with his child's alleged mother, ex-adult film star, Sophie Brussaux, though he never mentions her by name, or his son. Drake does, however, reveal that his son was born on October 11.
"October baby for irony sake, of course / I got this 11 tatted for somebody, now it's yours / And believe me, I can't wait to get a hunnid more / Sorry I'm vintage, tryna cover ground," he raps. "They said that in two weeks you're supposed to come in town / Hopefully by the time you hear this me and your mother will have come around instead of always cutting each other down."
As for Jay-Z's appearance, it would indicate that things are good between the two now, despite the minor riffs they've had over the years. Jay's verse was clearly recorded very recently, as he makes reference to 20-year-old rapper XXXTentacion's murder on June 18. And as per usual lately, Jay has words about Donald Trump. "I got your president tweeting / I won't even meet with him / Y'all killed X and let Zimmerman live / Streets is done," he rhymes.
As Forbes reports, Scorpion is already eligible for platinum status off the strength of previously released singles "God's Plan" - which stayed at no. 1 on the Billboard Hot 100 for 11 weeks straight - and "Nice for What," which debuted atop the Hot 100. That track made Drake the first artist in the U.S. to replace a No. 1 debut with another No. 1 debut.
However, Scorpion may very well be Drake's last album on Baby's Cash Money Records, which he also alludes to on "Is There More" and also on "Survival," rapping: "Soon as this album drops, I'm outta the deal" on the former. Could that be why Scorpion was released as a double album?
Take a listen to Scorpion below via Spotify.
13 Comeback Rap Albums That Saved Careers