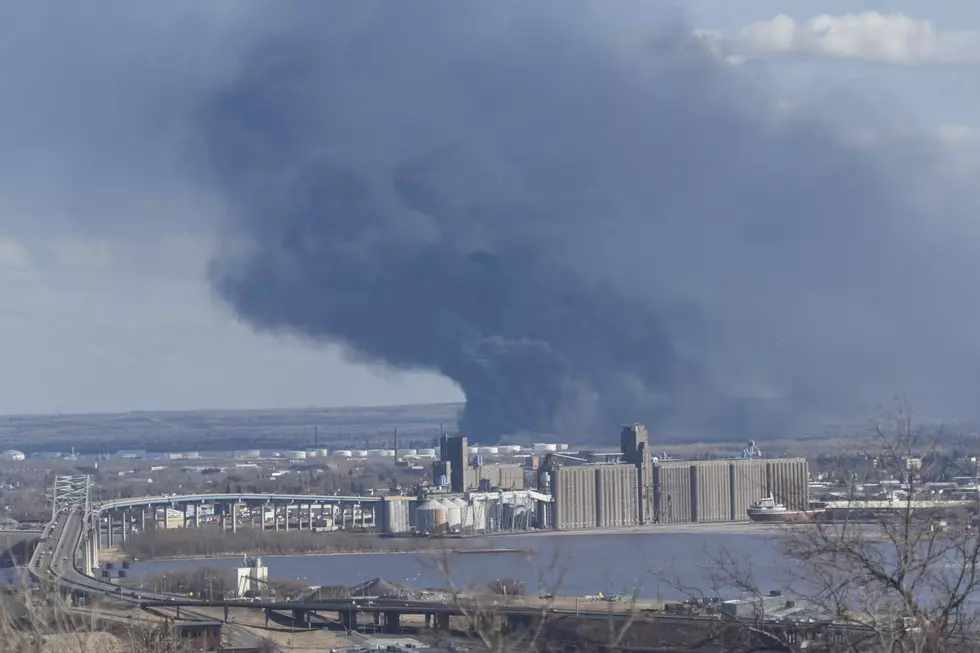 Explosion at Superior's Husky Refinery – UPDATES
TSM Duluth
Evacuation Update: Superior Mayor Jim Paine lifts evacuation order as of 6:00 am Friday morning. Air quality situation called 'stable'.  
LIVE VIDEO
Emergency crews are on the scene of what is being referred to as an 'emergency situation' at Husky Refinery in Superior, where reports of an explosion have been followed by plumes of smoke coming from the facility, visible from quite a distance.
It was initially reported that there was at least 20 causalities, that number has been updated to 5 according to the Superior Fire Department. Those 5 people were taken to area hospitals.
A representative from the Superior Fire Department told WDIO this is a "serious situation". Roadways near the refinery have been blocked off, and employees have been evacuated from the facility.
Multiple reports of feeling the ground shake or what is being described as an explosion have been shared by people in Superior.
The Superior School District sent a message to parents saying "at this time, there is no reason to evacuate any of the school buildings. We will be keeping all students in the buildings."
We'll have more on this story as it develops.
UPDATES
The explosion occurred just after 10:00 am Thursday morning, and crews have been on the scene since.
Superior Police are asking the public to stay away from the area. They also say there is no evacuation of residents at this time from the area.
UPDATE (12:26 pm): The Superior Police Department has sent out a tweet informing people that the fire has reignited on site but there is no need to evacuate.
Fire re-ignited at refinery, thick black smoke visible at the scene (as seen in our live video above)
1 person is receiving treatment for "significant blast injuries". while the other four people injured are receiving treatment for other, less severe injuries.
Authorities report up to 7 subsequent explosions over the course of the morning since the initial blast just after 10 am.
Reports say the materials burning include crude oil and asphalt. Authorities say they are monitoring air quality and currently say there are no current threats to the public.
Authorities are pushing back safety lines and ask the public not to approach the area. As of right now, there are still no evacuation orders for area schools or for the public, but the public is asked to avoid trying to approach the area to spectate.
The fire at the facility is continuing to expand.
Evacuation order given within 10 miles south the refinery, 2 miles north and 3 miles to the east or west of refinery on the east side of Superior. The public is asked to leave your homes or businesses and get to an area primarily due to the heavy smoke.
Students in area schools are being evacuated to Amsoil facility in Superior.
Those being evacuated can go to Yellowjacket Union at UWS or Four Corners Elementary School as a safe shelter place.
Essentia Health shared the following information about injuries:
At this time, we are caring for ten patients from this incident.  We have five patients at Essentia Health-St. Mary's Medical Center in Duluth – one with a serious blast injury, four with non-life-threatening injuries.
We have five patients at St. Mary's Hospital-Superior – all with non-life-threatening injuries.
No other details are available at this time.  Essentia Health physicians and staff remain prepared and ready to care for all patients at both St. Mary's Medical Center and St. Mary's Hospital-Superior.
Essentia in Superior is being evacuated. Once patients are transferred to Duluth, the Superior emergency room will close.
All Superior School District schools are closed and all after school activities are cancelled for today.
The Duluth Transit Authority has announced that they are helping with the evacuation of areas in Superior. They are diverting buses used for regular routes to help transport people to safety.
The DECC has announced that they are now open as a shelter for anyone that is in the mandatory evacuation zone.
We now have a map of the evacuation area, which can be seen here.
Superior Mayor, emergency response officials, and representation from the refinery held a press conference to address the latest information.
Among the updates, the mayor specified that the current evacuation area is 3 miles of the refinery in all directions and 10 miles to the south. The public is asked to leave your homes or businesses and get to an area primarily due to the heavy smoke.
There is no end time for this evacuation order at this time.
Shelter locations for those evacuated include:
DECC AMSOIL Arena - Pets allowed at this shelter location
Hermantown Public Safety Building
Crews are "defensively fighting the fire", which means they are preventing the fire from getting away from the current area, but they do not have the resources currently to actively fight the fire. The concern is that fighting the fire without adequate foam and water would not effectively put out the fire.
Asphalt is primarily what is burning, which is why more than just water is needed to fight the blaze.
Douglas County has declared a state of emergency, and asked Maple School District to close Friday, joining Superior schools.
Crews say they don't know how long this fire will burn.
Superior Schools closed Friday
Maple Schools closed Friday
WITC Superior  closed Friday
UPDATE: 7:10 PM
Superior Mayor Jim Paine announced that the fire is out and that he expects to lift the evacuation order before 9 pm tonight.
UPDATE: 9:50 PM
From Superior Police:
Update: A secondary fire has been ignited due to the ongoing high heat at the scene. Although this fire is currently under control, the mandatory evacuation will remain in effect until further notice. It will be re-evaluated on an hourly basis There is a planned press conference to update the status of this continued precaution tomorrow at 10:00 AM.
While there are no evacuation orders for any parts of Duluth, those that live west of the ore docks in Duluth are being told to avoid being outdoors overnight tonight and to shut windows and shut off HVAC systems that intake outdoor air to minimize exposure to any smoke that may drift from the refinery into Duluth as the wind shifts overnight Thursday night.