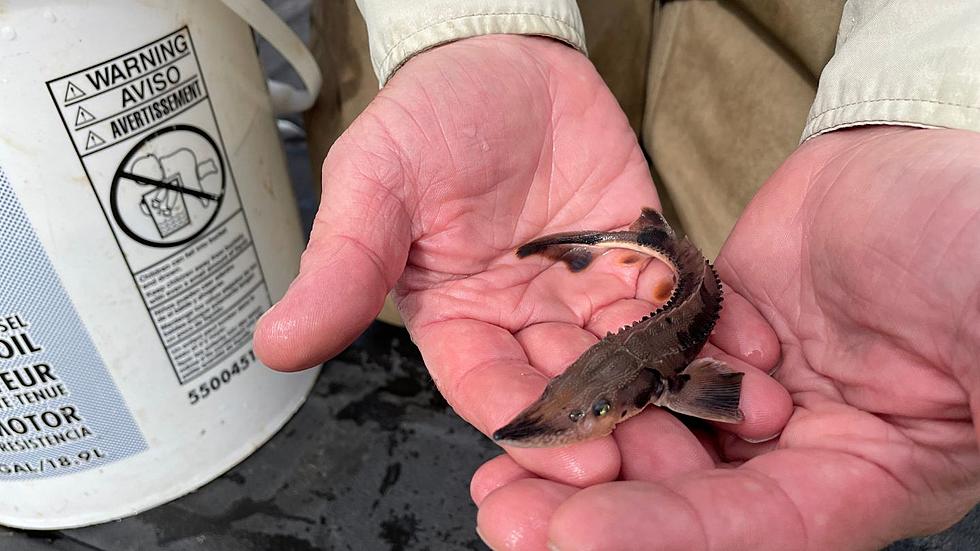 Minnesota DNR Has Stocked 375 Lake Sturgeon In St. Louis River To Aid Recovery
Courtesy Of The Minnesota DNR
The Minnesota Department of Natural Resources announced Thursday that they are taking proactive measures help in the ongoing recovery of the St. Louis River.
According to the DNR, the St Louis River is the largest freshwater estuary in North America and it was first designated as a Federal Area of Concern in 1987 because of legacy contamination.  Since then, Minnesota and Wisconsin state agencies, the EPA and a long list of Federal and natural resource partners have been working to clean up and restore the St Louis River with the goal of delisting by 2035.
This week the DNR are stocking lake sturgeon in the St Louis River, which marks the first time this has happened since 2000.
Sturgeon were once abundant there, but their populations declined in the early 1900's due to habitat destruction, pollution and overharvest.  The DNR adds that intermittent stocking in the 80's and 90 helped boost their numbers and even though hundreds of them have returned to the restored habitat to spawn, natural production remains slow.
Dan Wilfond, DNR Duluth area fisheries specialist, says the hope is that this effort will help to boost their numbers"
Female lake sturgeon can take over 25 years to reach sexual maturity, and when they do, they may only spawn once every 5 to 7 years, resulting is very slow natural reproduction.

The 375 lake sturgeon that we stocked today are about 4 months old, and each fish has a unique tag imbedded inside of it that biologists now and decades into the future will be able to monitor for their growth and the recovery of lake sturgeon in the St Louis River estuary and western Lake Superior.
Lake sturgeon are a native fish that can live for over 100 years and grow to over 100 pounds.
RANKED: Here are the most popular national parks
To determine the most popular national parks in the United States, 
Stacker
 compiled data from the 
National Park Service
 on the number of recreational visits each site had in 2020. Keep reading to discover the 50 most popular national parks in the United States, in reverse order from #50 to #1. And be sure to check with individuals parks before you visit to find out about ongoing, pandemic-related safety precautions at 
www.nps.gov/coronavirus
.
LET'S GO: The most popular historic sites in America