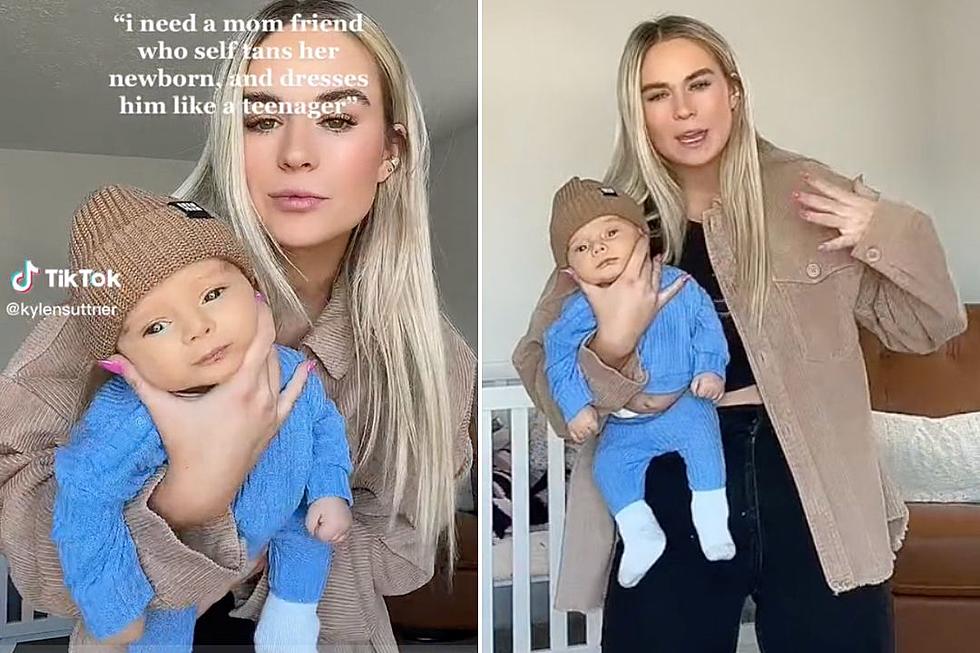 Mom Claims She Uses Self-Tanner on Her Newborn, TikTok Thinks She's Serious
@kylensuttner via TikTok
A mom on TikTok was slammed by some confused viewers after she claimed to use self-tanner on her baby.
In a viral clip shared on the social media app, TikTok user Kylen Suttner holds her baby up to the camera alongside the words, "I need a mom friend who self-tans her newborn and dresses him like a teenager."
Watch below:
In the comments section, some people believed Suttner was serious.
"Self-tan a baby?" one person wrote alongside a crying-face emoji.
"Ohh no! Don't self-tan a baby! Their skin is so sensitive," someone else wrote.
"He'll grow up with skin cancer but hey, he'll be the right color who cares? Does he vape yet?" another user shared, confusing using self-tanner with a tanning bed.
READ MORE: TikTok's Nasal Tanning Trend, Explained
In a follow-up video, Suttner added more fuel to the tanning tire by sharing a video of her holding her son toward the camera to showcase his skin tone.
"When everyone is telling me to stop self-tanning my baby, but the Loving Tan employees have families to feed," she wrote.
Again, the joke was lost on some TikTok users in the comments section.
"I can't tell if this is a joke," one user wrote.
"Some people are so superficial," another commented.
"Disgusting! So horrible," another slammed.
Speaking to the New York Post, Suttner explained that the viral videos about self-tanning her baby are all a joke, and that her baby's golden glow is simply due to being born with jaundice — a condition where excess bilirubin circulates the bloodstream causing a yellowish tint to appear on the skin and in the whites of the eyes, according to Mount Sinai.
"He had jaundice and looked really tan when he was born. Everyone commented on his color, so I decided to make a joke about it. I would never actually use self-tanner on my baby," Suttner shared in an email to the publication.
"I feel like most people understood it was a joke. But the few who didn't were appalled that I would self-tan my baby," she added.
Celebrity Kids Who Look Exactly Like Their Famous Parents