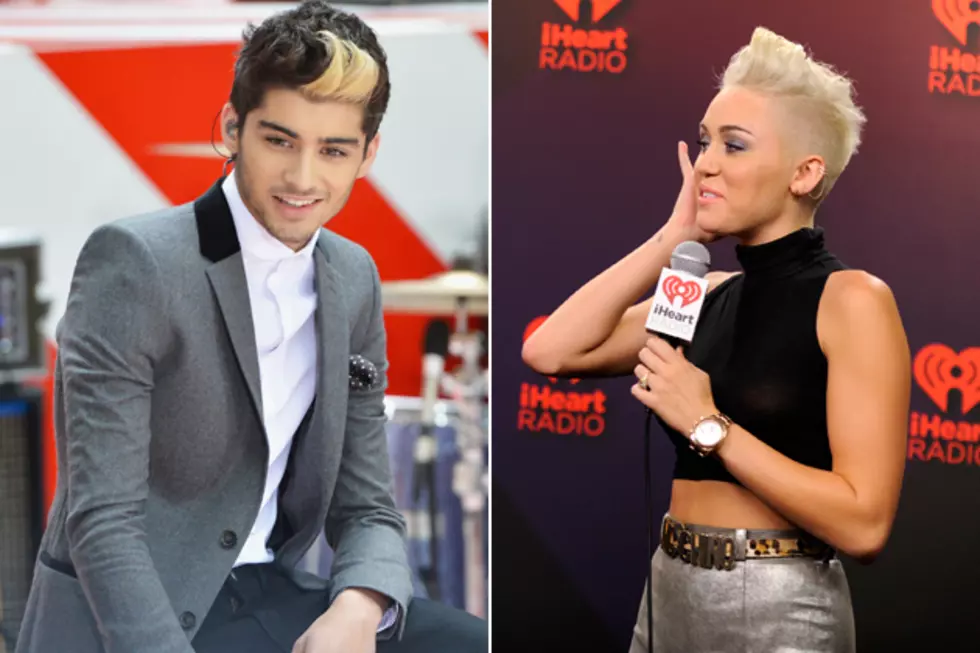 Miley Cyrus Reveals Favorite One Direction Member + Details on New Album
Slaven Vlasic / David Becker, Getty Images
Even though it's super hard to choose, most of us have a favorite member of One Direction. Miley Cyrus is no exception! Though she's happily engaged to hunky Aussie actor Liam Hemsworth, even Miley has a crush on one of the 1D boys. Which handsome Brit catches her baby blues the most?
In a Skype interview, Cyrus admitted, "Zayn Malik is my favorite!" There's a pretty amusing reasoning behind that, too. "I always remember that my friend said me and him have matching hair," she giggled. "He's my favorite. I think he's the cutest, but yeah I do know who they are!"
That's probably a bit of a bummer to Liam Payne, who's admitted to having the hots for the former 'Hannah Montana' starlet. When asked which American star he'd like to meet, he quickly quipped, "Miley Cyrus! She's hot!"
Zayn hasn't commented publicly on Miley's crush, likely because he's too busy cozying up with another cute blonde: His girlfriend, Perrie Edwards of Little Mix. And perhaps because he's freaked out by it, since Miley admits that she stalks him online!
Her 1D obsession wasn't the only thing Miley chatted about. She also answered some fan Qs about her new record, and from what she says, it's pretty unlike anything we've ever heard before. "The genre is something really new, something that hasn't been done," she enthused. "It's a mixture of a twang with more hip hop beats."