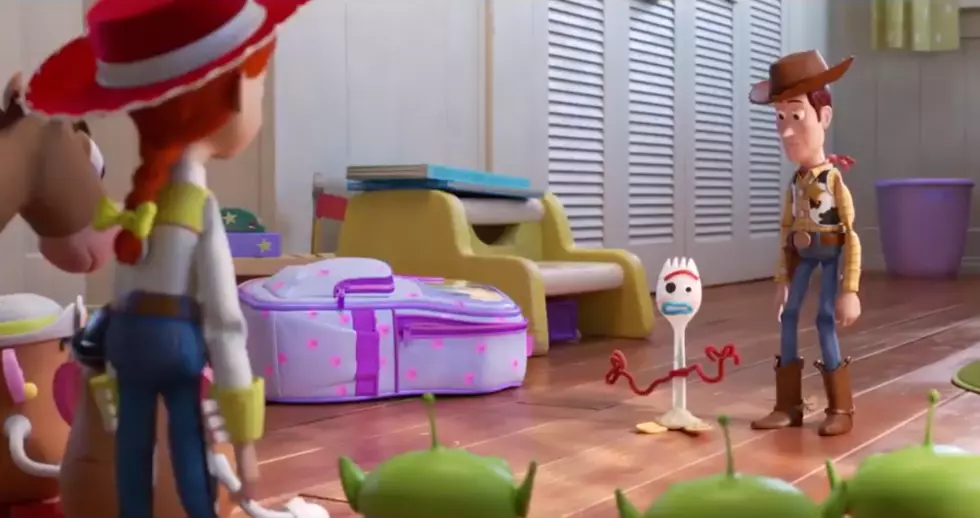 The 'Toy Story 4′ Trailer Is Here And It'll Bring Tears to Your Eyes
Courtesy of Disney/Pixar and YouTube
Woody, Buzz Lightyear, Rex and the gang are going on an all-new adventure in Toy Story 4.
A new trailer for the film premiered on Tuesday, showing Woody (Tom Hanks) and friends living with Bonnie after Andy, their original owner, passed them onto her at the end of Toy Story 3. In the clip, the plastic cowboy reveals that Bonnie created a new friend at school: Forky (Tony Hale), a spork with googely eyes, a clay mouth and pipe cleaner arms.
"Forky is the most important toy to Bonnie right now," Woody explains. "We all have to make sure nothing happens to him."
While Bonnie is thrilled with her creation, Forky isn't interested in being a child's play thing.  At one point in the clip, the utensil declares, "I am not a toy! I was made for soup, salad – maybe chili. And then the trash!" Forky then jumps out the window of the RV Bonnie's family, and her toys, is living in during a road trip.
In the trailer, Sheriff Woody jumps out after Forky, and the pair find themselves at an antique store after spotting Bo Peep (Annie Potts) in the window. Inside the store, Woody's attacked by an army of creepy dolls and then saved by his love interest. Once she pulls him to safety, Bo Peep shows Woody that there's a life outside of belonging to one specific child. This will, as the trailer suggests, create problems for Woody as he grapples with his desire to return to Bonnie or be free.
"I was made to help a child. I don't remember it ever being this hard," he said in the video.
Check out the full trailer below, and be ready to see Toy Story 4 in theaters June 21.
20 Inappropriate Scenes in Disney Movies