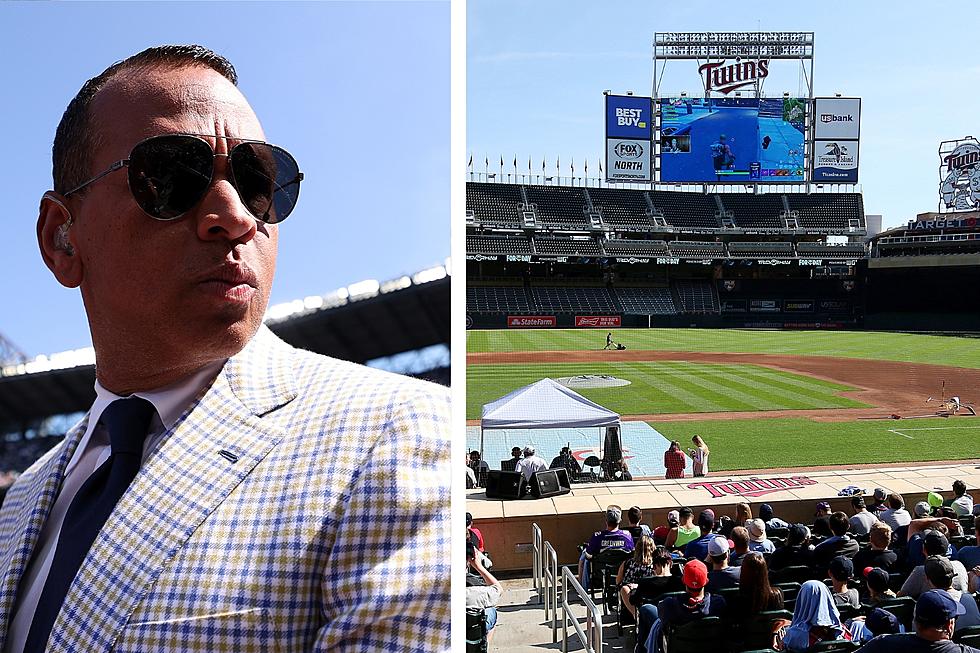 Alex Rodriguez Recently Spotted Watching A Twins Game At Target Field With His Daughters
Getty Images
If you had asked me 5 years ago if I'd ever imagine Alex Rodrguez saying "Let's go Twins!", I would have said "Never." Furthermore, if you would have asked me if he would ever get a round of applause at Target Field, I would have said "No chance!"
We live in a whole new world now, where the former New York Yankees star is now spending a lot of time in Minnesota, even rooting for the local ball club in the Land of 10,000 Lakes. There's even photographic evidence!
"A-Rod", who is now a part owner of the Minnesota Timberwolves, took his daughters to a Minnesota Twins game last week as the Twins hosted the Seattle Mariners.
Rodriguez was not only part of a Yankees squad that menaced the Twins for years, but also has ties to the Seattle Mariners (who the Twins were playing), having started his career there.
While that seems like a recipe for at least a little bit of malice if fans heard he was at Target Field, the fans in the stadium reportedly gave him a pretty warm welcome when they found out he was at the game.
A-Rod brought his two daughters with him, 18-year-old Natasha and 15-year-old Ella, enjoying the game and offering some kind words about the team, stadium, and fans.
MORE: Minnesota Wild + Goalie Filip Gustavsson Agree To New, 3-Year Contract
In an Instagram post, Rodriguez shared a photo of he and his two daughters in the stands, captioned with the words "Let's go @twins!"
He went on to express some additional love, saying "I love this park. Love the minny fans. Thanks for hosting us twins family - first class organization all the way!"
Some fans did have a little fun in the comments on his post, with one person commenting "Remember when you hit 3 BOMBS against them?" and another saying "ARod you owned them in 09. That Hr off Nathan in the ninth was one of my favorites moments ever."
Yet another person commented, "he gets more love there then in Yankees stadium".
As he continues to grow his ties with the Timberwolves and the state of Minnesota, I'm sure he'll be seen at plenty more Twins games in the future.
10 Things to Know About Alex Rodriguez
Don't be like Timberwolves rookie Anthony Edwards and not know anything about the pending new owner of Minnesota's NBA team.