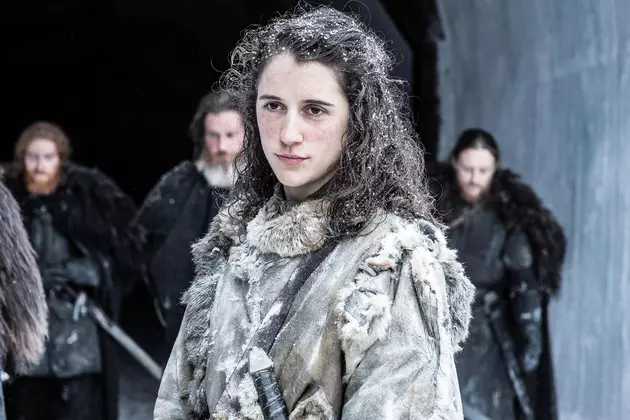 At Least One 'Game of Thrones' Character Has Left the Series for Good
HBO
Game of Thrones has a habit of revisiting characters we never really needed to check in on, but Season 8 may finally tighten the circle. A longtime series player with an unceremonious exit in Season 7 doesn't believe they'll return for Season 8, and not even Bran saw it coming.
Even as yesterday confirmed that the somewhat superfluous Dolorous Edd (Ben Crompton) will return for the HBO fantasy-drama's eighth and final season, the same apparently can't be said for Ellie Kendrick's Meera Reed. The character graciously helped lug Bran around since as far back as Season 3, but Kendrick tells Metro UK (h/t UPROXX) she hasn't heard about any potential return:
Not [returning] as far as I know. I don't know. It's funny because I always get asked, 'What's going to happen? Are you in it?' Genuinely the truth is I don't know … I wait for the phone to ring and then I find out, but it hasn't rung so I don't know. I'll find out whether I am or not at some point, but for now I haven't been notified so I'm yet to discover.
Production on the final six episodes is likely to take until summer 2018, meaning Kendrick would have some idea of her return by now. In any case, it's a notable shortchanging for the character, who had the thankless task of taking Bran all the way to Winterfell, only to discover his Three-Eyed Raven personality shift killed any hope of a meaningful goodbye. Meera Reed has also been the subject of book and show speculation, as Kendrick's appearance bears passing resemblance to a female twin of Kit Harington's Jon Snow. Only Ned Stark and Meera's father Howland were aware of Jon's true parentage, and fans thought Meera perhaps the Leia to Jon Snow's Luke.
We'll see what other returns and omissions Game of Thrones has in store for the final season soon, but was the Reed family not worth returning to?
Check Out 100 TV Facts You May Not Know!