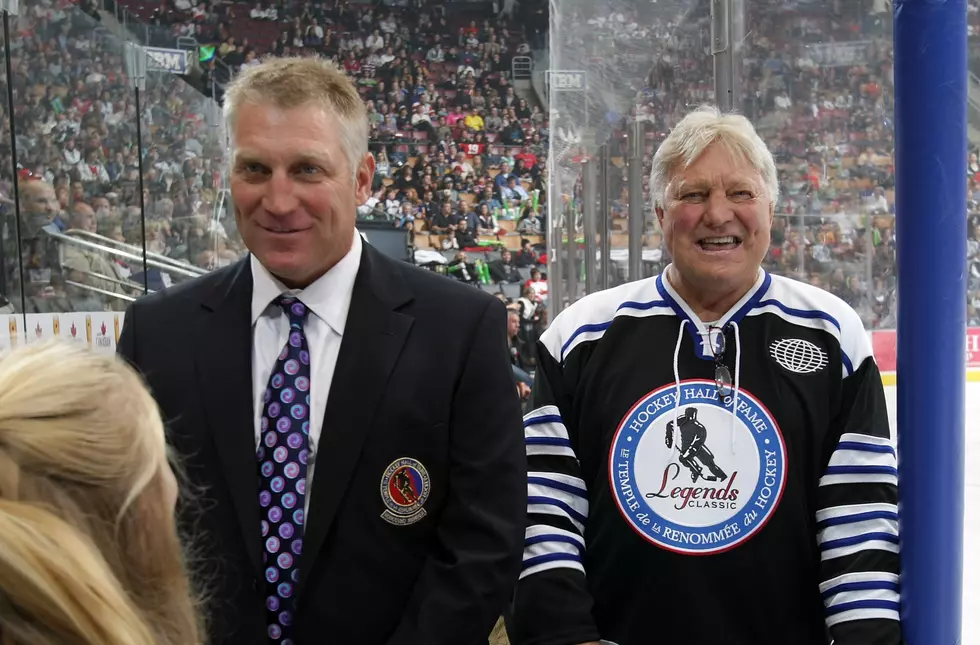 Hockey Legend Bobby Hull Passes Away At 84
Getty Images
Hall of Famer and hockey legend, Bobby Hull has passed away at the age of 84. "The Golden Jet" was a 12-time All-Star and two-time Hart Trophy winner.
Bobby has ties to the Northland as his son, Brett Hull, played for the University of Minnesota-Duluth Bulldogs in college. Like his dad, Brett went on to have a storied NHL career. Can you name a better father-and-son combo that played in the league?
Bobby Hull was known as "The Golden Jet" due to his blond hair and his fast speed on the ice.  Hull was born in Ontario, Canada in 1939. He joined the Chicago Blackhawks in the late 50s and played with them for 15 seasons. They even won a Stanley Cup in 1961.
The Blackhawks went to Twitter to post about the loss:
Hull had one of the most feared slap shots in the league as he was known for curving the blade of his wooden stick. It was reported that his slap slot was clocked at 118 mph
During his NHL career, Hull also played for the Winnipeg Jets, and the Hartford Whalers. "The Golden Jet" also won back-to-back Hart Memorial Trophies as the league's most valuable player in 1964-65 and 1965-66.
According to ESPN, Hull was also the first person to receive a $1 million contract in professional hockey. In 1972, he left the NHL to join the Winnipeg Jets in the WHA (World Hockey Association) as a player and a coach.
While in the WHA, he helped the Jets win Avco Cups in 1976 and 1978. He also won two Gordie Howe Trophies as the league's most valuable player in 1972-73 and 1974-75. He even scored 77 goals in the 74-75 season, which was his career best.
If you're looking for more stats, only Gordie How and Alex Ovechkin have more instances than Hull, finishing in the top three in goals scored over 10 NHL seasons.
Our thoughts and prayers go out to Hull's family and friends.
The Best of Minnesota Sports Fans
Fans are back! Let's take a look at the BEST of Minnesota sports fandom.
15 Professional Athletes From Minnesota