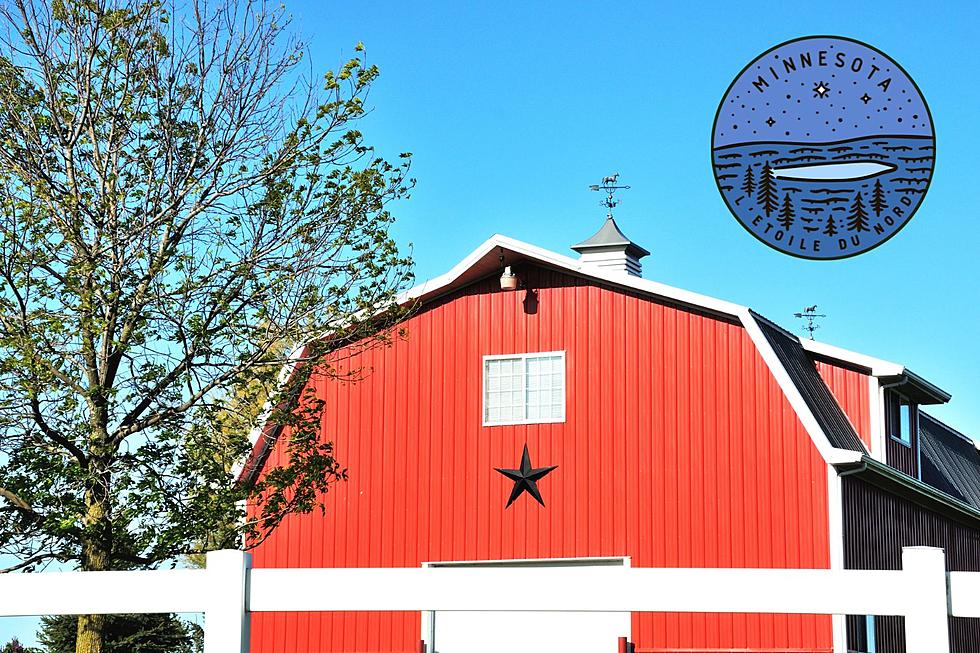 If You See a Popular 'Barn Star' in Minnesota, This Is What It Means
Canva
Barns are located all across Minnesota, and if you see a barn with a star on it, this is likely the meaning behind why it's there.
Barns and Minnesota go together like macaroni and cheese, right? Owing to the agricultural nature of our ancestors, the Land of 10,000 Lakes has been home to many different barns over the years. And many have a 'barn star' somewhere on them. But what does it mean?
Well, for starters, a 'barn star' that you might see on a bright red barn here in the Gopher State isn't just a decoration, though it might look like that these days, thanks to the 'modern farmhouse' style of decorating that's popular these days.
But a real 'barn star' here in the Bold North is a tradition brought over to Minnesota by our German ancestors. This Taste of Country story notes that while some 'barn stars' were simply painted on the wood, many are made of actual metal and attached to the exterior side of a barn structure.
And they weren't just decorations, Taste of Country says. Initially known as Pennsylvania stars or primitive stars, they originally had a distinct meaning:
These stars were commonly installed on barns by early Dutch and German settlers to ward off evil. The stars are known to bring good luck to farmers, too.
This story backs up that claim, saying that while barnstars do not likely have any structural purpose, many are considered lucky, similar to a horseshoe that you might see mounted over a doorway.
Keep scrolling to check out a cool video that shows what some of these classic 'barnstars' look like here in Minnesota and across the Midwest. Sadly, many of Minnesota's classic barns are falling into disrepair or have already been torn down and are lost. Keep scrolling to check out some other classic retail chains that are also not around anymore.
Listen to Curt St. John in the Morning
Weekdays from 6 to 10 a.m. on Quick Country 96.5
LOOK: Here are 50 of your favorite retail chains that no longer exist
Are you ready to see the top 50 major retailers that no longer exist? Keep reading to see if your favorites made
the list
.