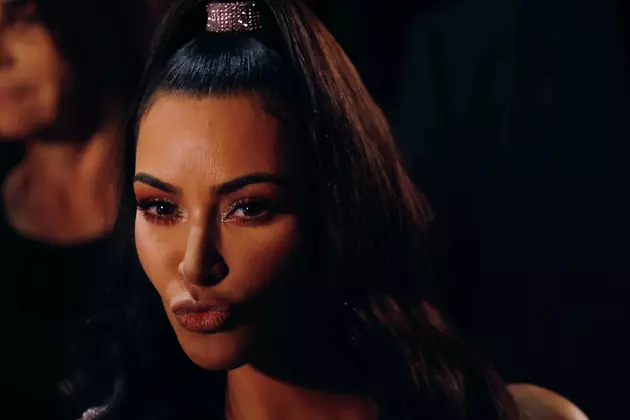 Kim Kardashian Reveals Psoriasis Flare-Up on Face
Getty Images
Kim Kardashian has been open about her struggles with psoriasis, sharing her most recent flare-up with Instagram followers.
On Monday, the 38-year-old shared a video of herself with blemishes covering different parts of her face, revealing that her psoriasis had returned again. In the clips, she appears with no makeup on, and seemingly no filters to fully showcase her battle with the skin problem.
"Psoriasis Face," she wrote over the video.
The clip is just one of many posts she's shared about her psoriasis battle. Last month, according to People, Kardashian gave fans a glimpse into how she manages the ailment. The outlet reported that she shared a selfie from bed, in which she appeared with a dark-colored herbal ointment dotted over the broken out areas. The ointment appeared under her eyes, on her cheeks, on her forehead and on her chin, suggesting her psoriasis has been affecting her face for some time.
"Psoriasis is the s---!" she joked, comparing the look of the ointment on her face to feces.
Kardashian's condition has worsened recently, People reported. In December, the Keeping Up With the Kardashians star tweeted to her fans  that she was looking for advice on treating her psoriasis in different ways. In her tweet, Kardashian said she was considering "a medication" at that point.
"I think the time has come I start a medication for psoriasis," she tweeted. "I've never seen it like this before and I can't even cover it at this point. It's taken over my body."
Kardashian went on to ask, "Has anyone tried a medication for psoriasis & what kind works best? Need help ASAP!!!"
The reality star was first diagnosed with psoriasis in 2011. She received the diagnosis during an episode of her family's hit reality show. Kardashian opened up about the experience on her app in 2016, according to a separate report from People, revealing that she noticed it during "the DASH store opening in New York."
"I wore this all-sequin dress and I started getting really itchy; I thought it was just a rash caused by the fabric, but then the rash was COVERING my legs and my mom [Kris Jenner] was like, 'I think you have psoriasis!!!'"
Kardashian noted, "[Jenner] has it too, and it's hereditary, so she spotted the symptoms immediately."
Since being diagnosed, she's made a habit to speak about her psoriasis often. Fans have appreciated her openness about it, and the remedies she finds bring her some relief. However, there is no cure for psoriasis, and Kardashian continues to struggle.
Celebrity Kids Who Look Exactly Like Their Famous Parents