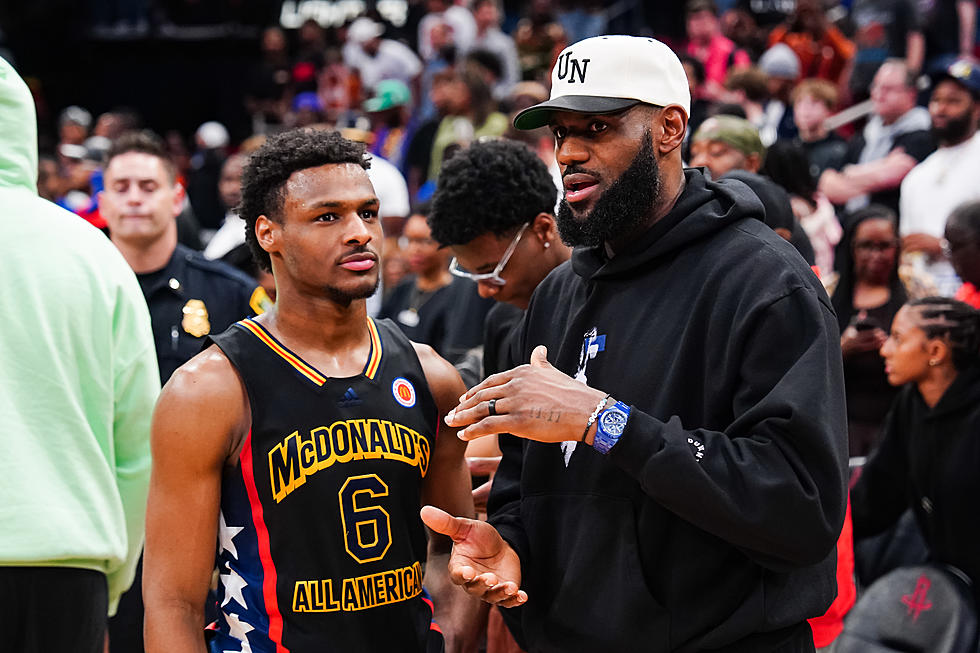 LeBron James Spotted In Minnesota With Son Bronny [VIDEO]
Getty Images
NBA superstar LeBron James and his son Bronny were recently spotted in Minnesota, though the purpose of their trip isn't to just enjoy some relaxation in the Land of 10,000 Lakes.
LeBron and his son were spotted in Rochester, seeking additional treatment following Bronny's scary medical situation in July.
Bronny, LeBron's oldest son, suffered a cardiac arrest during basketball practice at the University of Southern California on Monday, July 24. Bronny, who signed with USC back in May of this year, committed to the team as the number 11 ranked player in the nation according to the USC press release.
MORE: Alex Rodriguez Recently Spotted Watching A Twins Game At Target Field With His Daughters
Following the cardiac event during the USC practice, medical staff were able to treat Bronny and take him to the hospital. He was released from the hospital on Thursday, July 27, spending some time resting and recovering.
His dad, LeBron, shared a statement on Twitter following his release from the hospital, saying:
TMZ Sports reported Tuesday (August 8) that LeBron and Bronny were both spotted around the area of the Mayo Clinic, then were later spotted with some friends dining at Rochester eatery Terza Ristorante in Downtown Rochester. TMZ Sports reports that the group was met by a group of fans when leaving the Italian restaurant after dinner.
The promising basketball future of Bronny is now in question, following the cardiac event that happened during practice. Sports Illustrated recently published an article where an expert was quoted saying:
"If they don't find an exact cause and you don't really know what happened, you have to have that discussion of what exactly are the risks of going back out there and playing. Extremely serious situation we're dealing with, then legitimately something that affects the rest of his career depending on what we discover and depending on what they have to do about it."
A CNN story about Bronny's health scare points out that cardiac arrest, which occurs "when electrical disturbances cause the heart to suddenly stop beating", are rare but not unheard of among young athletes. While rare, the CNN report cites data that finds cardiovascular-related sudden death was the top cause of death among college athletes, with 45 cases between 2004 and 2008 - during the study period.
Thankfully Bronny's outcome was not the same as those instances cited in the study. Still, it is a frightening situation. Here's to an ongoing recovery and wishes for good health for the young man.
10 Cities That Need An NBA Team
There have been rumors swirling for years that the NBA is looking to expand. The last time the league expanded, is when it added the Charlotte Bobcats back in 2004.
Now, as we often do every offseason, we're wondering where the NBA would add a team if it were to expand? Would it be a brand new market? Add an additional team to a large market? Or bring a team back to an old market?
Let's look at the most likely possibilities, and cities that deserve an NBA team!