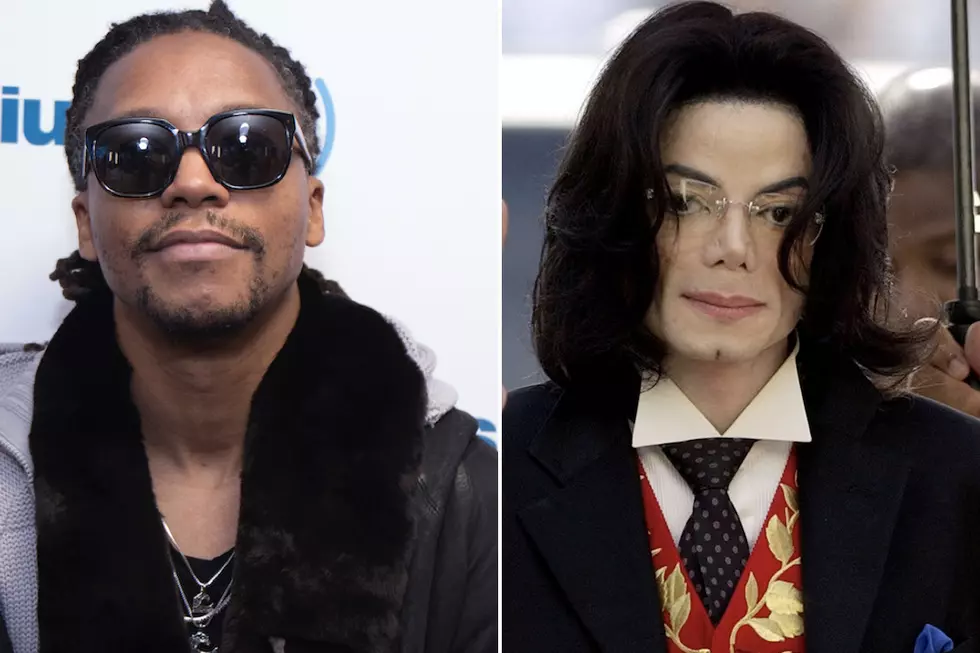 Lupe Fiasco Says Listening to Michael Jackson Doesn't Mean You Support Pedophilia
Santiago Felipe / Aaron Lambert, Getty Images (2)
Lupe Fiasco addresses the wave of Michael Jackson-centered dialog in the wake of HBO's Leaving Neverland documentary, which aired last Sunday (March 3).
On Thursday (March 7), the Chicago native hopped on his Instagram account to speak on Jackson, saying that just because you listen to Jackson doesn't mean that you support pedophilia or rape.
"Michael was/is my hero. He's not my God. Michael was/is larger than life but he was not life itself. Michael represented creative excellence but he was not excellent," Lupe said of Jackson, who has been hit with numerous child sex abuse accusations over the last 30 years.
"Michael wowed us with Moonwalks and anti-gravity leans but he wasn't an alien or some supernatural being. With all this Michael is not necessary and for that matter nobody is necessary."
Lupe continued, "Take the parts that inspire and let them inspire, take the parts that disgust and make sure that we apply the pressure and grace to make sure our heroes never put us in this position again," he continued. "Championing Michael's good doesn't mean you also are championing Michael's bad."
"Listening to his songs doesn't mean you are supporting pedophilia or rape," he added. "But let's call him to task, listen to the alleged victims, here all sides and learn the lessons that need to be learned."
Elsewhere in his IG caption, Lupe laid out what he feels are lessons to take from the saga of Jackson. "LESSON#1: STOP GIVING YOUR FUCKING KIDS TO WEIRDOS IN HOPES THAT THEY WILL BECOME STARS BY ASSOCIATION!!! LESSON#1: STOP COMING TO LA WILLING TO DO ANYTHING AND EVERYTHING TO GET ON!!! LESSON#1: STOP USING YOUR BODY LIKE ITS A FUCKING CREDIT CARD!!! LESSON#1: YOUR MOUTH, DICK, PUSSY AND ASSHOLE IS NOT A DOORWAY TO YOUR DREAMS!!! LESSON#1: GRAB YOUR DUMB FRIEND BY THE ARM AND PULL THAT BITCH OUT THE CLUB WITH YOU WHEN YOU LEAVE!!! LESSON#1: DONT GO!!! LESSON#1: VICTIMS ARENT BORN. VICTIMS ARE MADE. LESSON#1: CHECK THE SHIT OUT OF + POSSIBLY PUT HANDS ON THE PREDATORS AND POTENTIAL PREDATORS THAT ARE IN YOUR LIFE THAT YOU KNOW ARE UP TO NO GOOD."
Lupe's message follows T.I.'s recent IG post in which the Atlanta rapper denounced what he feels is an attack on MJ's legacy. In January, Kanye West appeared to have addressed the controversy surrounding the documentary with his statement that it's okay for people to listen to Michael's music despite the accusations levied at the singer.
You can read Lupe Fiasco's IG post below.
12 Pictures of Rappers With Pop Icons