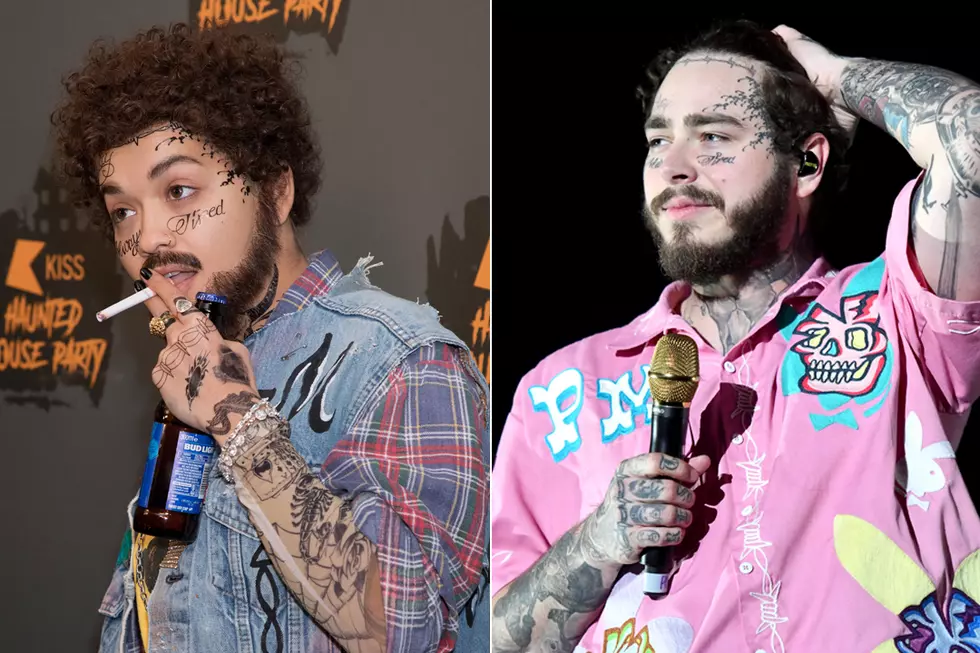 Rita Ora Gets Mistaken for Post Malone in Article About 2019 Grammy Awards
Jo Hale / Scott Dudelson, Getty Images (2)
Last fall Rita Ora stunned the internet when she pulled out an incredibly spot-on Post Malone  Halloween costume. Several months later, the costume is still making an impact.
Earlier today, The Hollywood Reporter posted a tweet announcing that Post Malone, Cardi B and Camila Cabello are set to take the stage and perform at the 2019 Grammy Awards. The only problem was that the site used a photo of Rita Ora dressed as the "Sunflower" rapper instead of an image of the rapper himself.
As we mentioned up top, the photo in question is from Halloween 2018 when Ora dressed up as Posty complete with fake face tattoos, fake mustache, beard and wig. She even wore a flannel shirt and denim jacket that had the words Post Malone spray painted on it. To accent the ensemble, the singer carried an unopened bottle of Bud Light beer and a faux cigarette.
This news arrives after fans recently unearthed Post Malone's pre-fame SoundCloud account and shared two "unreleased" songs. Under the name Austin Richard, the Grammy-nominated rhymer goes emo on the guitar-driven, yuletide rendition of "Silent Night" and the emotionally-filled ballad "Stairs and Strangers." Pretty dope stuff.
Check out a screenshot of THR's tweet below.
33 Rappers With Wild Neck Tattoos