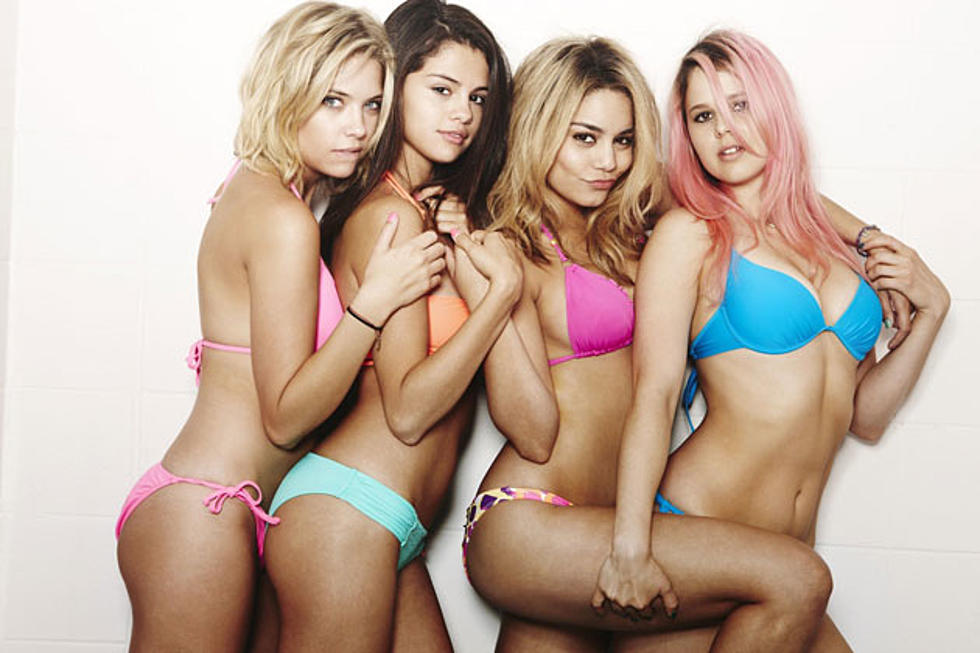 A24
James Franco might not be the best actor working in movies today, but he's almost certainly the most fearless. His choices are as unpredictable as they are gutsy. He'll try just about anything: television dramas ('Freaks & Geeks'), soap operas ('General Hospital'), comedies ('Pineapple Express'), and big blockbusters ('Spider-Man,' 'Rise of the Planet of the Apes'). His latest role, in Harmony Korine's 'Spring Breakers,' might be his craziest and most daring to date. He plays Alien -- pronounced "A-Leen" in Franco's South Florida drawl -- a drug dealer and aspiring rapper who likes to boast that he's from another planet. Franco's performance is suitably extraterrestrial: hilarious, disturbing, deranged, poignant and endlessly quotable. In an instant classic scene, Alien shows off all his prized possessions -- machine guns and money and nunchucks and 'Scarface' DVDs on constant repeat -- while screaming "Look at my s---!" Alien's orders are superfluous; any time Franco's onscreen, you can't take your eyes off him.
In general, there's a lot to gawk at in 'Spring Breakers,' starting with an opening montage of Spring Break debauchery: co-eds grinding on the beach, topless women getting doused with beer, girls sucking on red, white and blue Bomb Pops as if to suggest, "Here it is: the American dream in 2013" (an idea that comes up a few times in the film). Then there's the rest of the cast, which includes formerly squeaky clean teeny boppers like Vanessa Hudgens, Ashley Benson and Selena Gomez, getting high, robbing people, and generally acting like a bunch of delinquents. Between the drugs, the skimpy costumes, and the defilement of these wholesome Disney stars, the movie courts controversy at ever turn.
The plot, though is very straight-forward. College students Brit (Benson), Candy (Hudgens), and Cotty (Rachel Korine, director Harmony's wife) dream of going to Spring Break, but they can't afford the trip. So the trio steal a car and hold up a restaurant with a couple of squirt guns. Then they grab their god-fearing friend Faith (Selena Gomez) and head down to St. Petersburg.
Spring Break is everything the girls hoped for, and Korine turns the mad bacchanalia into a swirl of dubstep-fueled cinematic insanity. Then the foursome get arrested and bailed out by Alien, who takes a liking to Faith and invites them all to enjoy "Spring Break forever" by becoming part of his entourage and gang. From there, the film becomes a succession of orgies, drive-by shootings, slow-motion gun battles, and Britney Spears musical numbers performed by Franco on the piano with accompaniment by Benson, Hudgens and Rachel Korine in pink ski masks.
'Spring Breakers' operates in two distinct modes: outlandish scenes like that one which paint a withering portrait of Millennials and their amoral excesses, and meditative sequences where Korine blends voiceover and impressionistic imagery to create a more melancholic vision of this lost generation. In general the former work better than the latter, and the two halves don't necessarily work all that well together. Is Spring Break a bummer or a utopia? Is it a place that empowers women or debases them? Is this story a comedy or a tragedy?
Even if Korine's message gets lost at times, Franco's performance remains insanely watchable. With his dreadlocks, grill and accent, Alien could easily become an outlandish cartoon, but Franco invests him with a believable edge and a surprising amount of humanity, balancing out Korine's lyrical flourishes with pure, unbridled star power. The female characters are largely interchangeable and their arc's mostly forgettable, but every single moment Franco's onscreen, 'Spring Breakers' leaps to life. It's an all-time great performance in an otherwise okay film.
'Spring Breakers' hits theaters in limited release March 15.
Matt Singer is a Webby award winning writer and podcaster. He currently runs the Criticwire blog on Indiewire and co-hosts the Filmspotting: Streaming Video Unit podcast. His criticism has appeared in the pages of The Village Voice and Time Out New York and on 'Ebert Presents at the Movies.' He lives in Brooklyn with his wife, dog, and a prop sword from the movie 'Gymkata.'