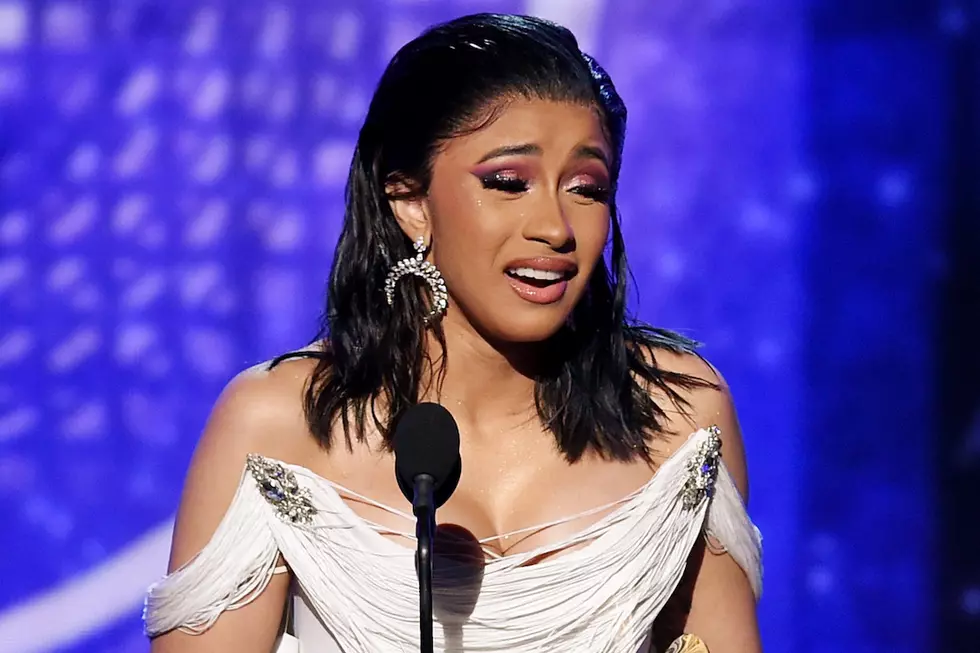 Cardi B at Loss for Words, In Tears During Grammy Acceptance Speech
Kevin Winter, Getty Images
A visibly shaken Cardi was at a loss for words and almost in tears when she graced the stage to accept her Best Rap Album award for her debut album, Invasion of Privacy. "Woo, the nerves are so bad," she told the audience as they chanted, "Cardi! Cardi!" She then joked, "Maybe I need to start smoking weed."
During her acceptance speech, Cardi thanked everyone at Atlantic Records, her husband Offset (who was standing beside her) and her newborn baby Kulture. Cardi's unprecedented win makes her the first solo female rapper to win Best Rap Album at the Grammy Awards. Lauryn Hill won Best Rap Album for The Score as part of the group The Fugees in 1997.
However, not everyone was feeling Cardi B's Grammy win. Ariana Grande seemingly appeared to have been upset that Cardi won Best Rap Album. The singer's late ex-boyfriend Mac Miller, who died in September of 2018, was nominated in the same category for his album, Swimming.
After Cardi accepted her gramophone trophy, Ariana reportedly wrote in two now-since deleted tweets: "fuck" and "literal bullshit."
Fans caught wind of her tweets and lashed out at the "7 Rings" singer. Grande quickly clarified that she wasn't upset that Cardi won Best Rap Album.
"Nothing to do w her," Ariana tweeted in response to a fan. "Good for her. i promise. i'm sorry."
Ariana further explained that she was upset that Mac Miller's parents were invited to attend the Grammys only to see their late son lose the honor.
You can watch Cardi B's acceptance speech and Ariana Grande's reactions below.
Also, be sure to check out our winners list for the 2019 Grammy Awards to learn who took home awards at the star-studded event.
See Photos of Your Favorite Rappers and Producers on the 2019 Grammy Awards Red Carpet