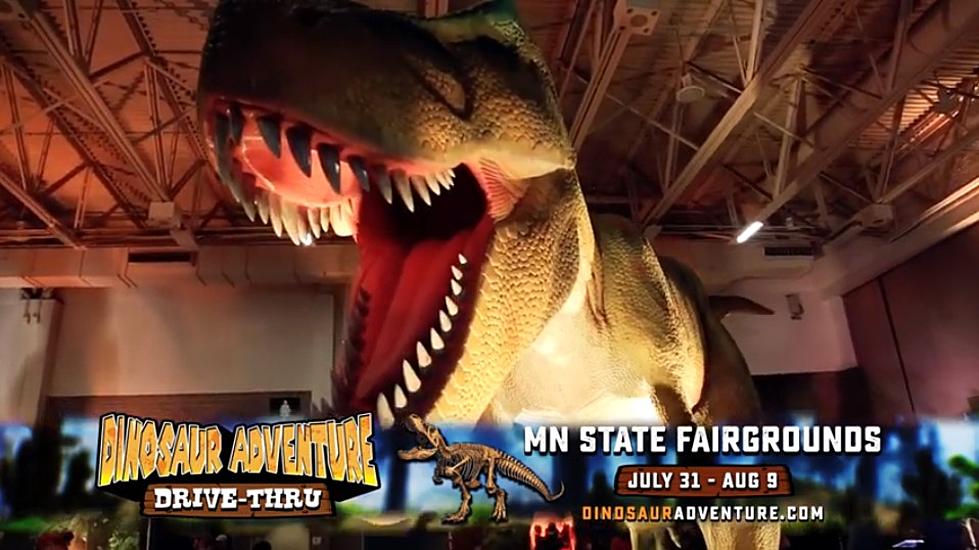 Dinosaur Adventures Has Taken Over The State Fair Grounds In St. Paul
Photo: Courtesy of Dinosaur Adventures Via YouTube
The Dinosaurs have arrived at the Minnesota State Fairgrounds and are waiting to see you and your family. Due to the COVID-19 Pandemic this exhibit will be different then in the past in that it is a Drive-Thru only event.
From the safety of your car you have the chance to meet a few of the 80 dinosaurs like a 40 foot T-Rex, 30 foot Allosaurus and more all from the comforts of your own vehicle. The Dinosaur Adventure runs through August 16, and tickets are selling out fast.
Tickets start at $40 per vehicle, as of today dates they are sold out up to August 6. All ticket purchases must be paid online, no tickets will be sold at the fairgrounds. Minnesota State Fair Grounds are located at 1265 Snelling Ave N in St. Paul. Enter from the main gates on Snelling Avenue. The Drive-Thru tour takes between 30 and 45 minutes.
Enter your number to get our free mobile app
You can make your drive-thru experience even better by adding one of their limited edition Dinosaur Adventure Packs for kids for ONLY $29 which is normally a ($55 Value), with your drive-thru ticket. These kits are not available on site so make sure to buy yours on-line before they are sold out. The kits include a Dinosaur Adventure Back Pack. Dinosaur Adventure T-shirt (child sizes only) cotton candy bag, Dino hatch egg, Fossil dig with tools, Dinosaur Adventure toy and coloring book. You must buy the Adventure Pack along with your Drive-Thru Ticket.
For more information and to purchase tickets click here.
5 Things That We'll Miss Most About the Minnesota State Fair