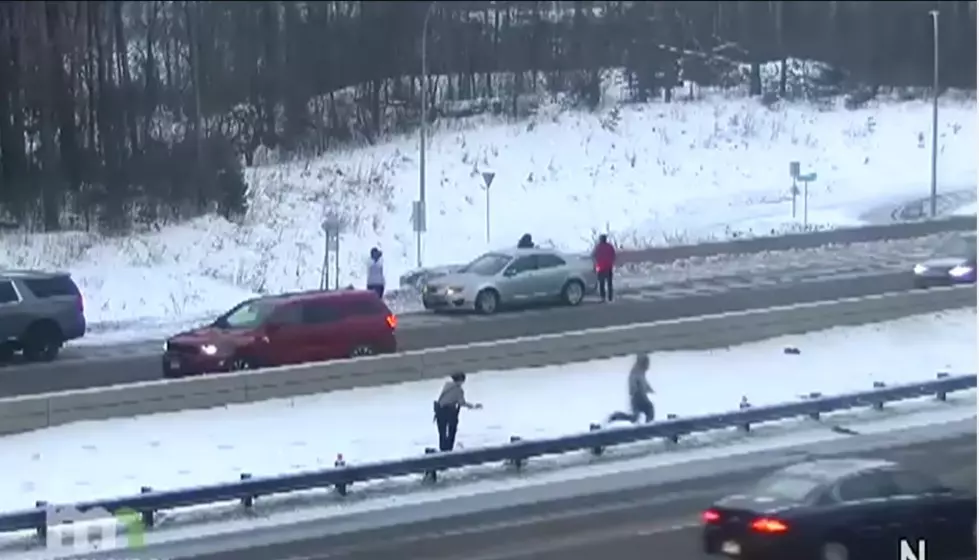 WATCH: Man Tries To Outrun Minnesota State Trooper, Gets Tased Twice
Photo: MNDOT
I will never understand the logic some people use when they try to outrun the police. More often than not you are outnumbered and all it will do is cause more problems and charges for you, but it continues to happen repeatedly.
This genius really needs to reevaluate his life if he thinks running through the snow in a median of a highway with cars all around that he is going to be able to outrun this officer and get away. Now if this was the only officer in the area he may or may not have been able to outrun them initially but where are you going to go? Honestly, I can't help but think of the movie FARGO when the suspect runs off onto the lake, with sheriff Marge hot on his trail.
If he had run into the woods, they would bring in a K9 or two and tracked him down eventually and I guarantee you, he would have changed his mind to run, if that dog caught him first. The video below is from the Minnesota Department of Transportation (MNDOT) with this camera set up in Hilton Minnesota.
WCCO-TV/CBSNEWS reports that according to the Minnesota State Patrol, the suspect was involved in a wrong-way crash on the freeway. "The Minnesota State Patrol says it happened on Highway 36 near Hilton Trail, by the city of Pine Springs." The driver took off on foot after the crash and can be seen being chased by a Minnesota State Trooper.
The suspect was tased at one point and got up and tried to keep running when they were tased a second time and finally brought into custody. "The state patrol says the suspect "showed suspected signs of impairment." They were taken to an area hospital. Their condition was not released. It is not clear how many people were involved in the crash, but the state patrol says all injuries were non-life threatening."
14 Of The Most Minnesota MNDOT Messages
11 Very Common Stereotypes About Minnesota