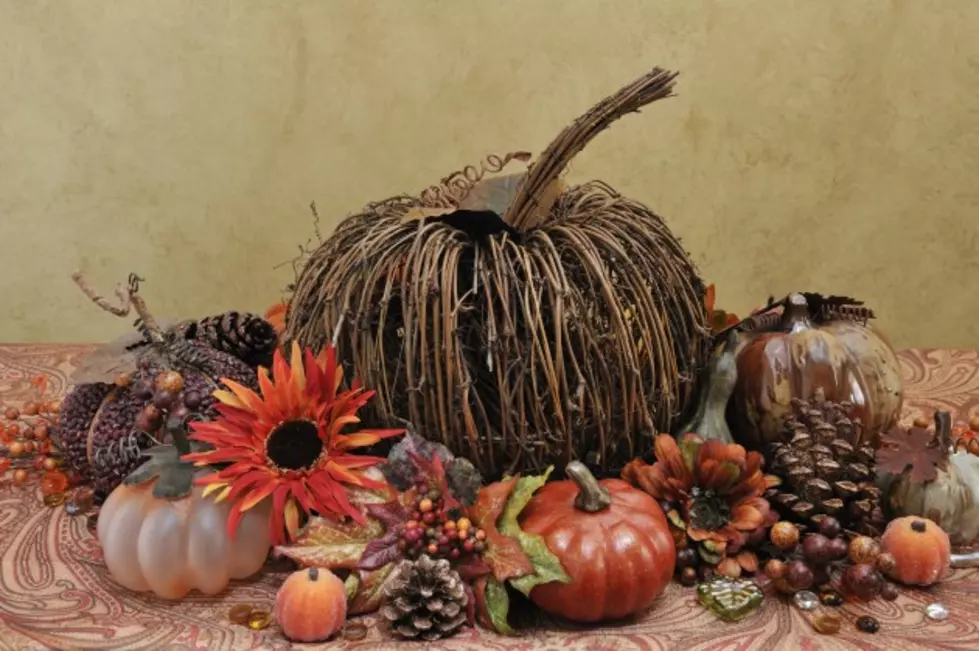 5 Simple Thanksgiving Decorating Ideas — Pinecones, Pumpkins, Dolls and More
iStock
Getting your family in the mood to eat gobs of delicious food on Thanksgiving may not be the toughest task, but you can always make things memorable by sprucing up the house a bit too. It'll enhance everyone's experience, you'll be able to reuse the decorations next year, and best of all, it's fun.
With just a little bit of work and creativity, you can be ready for Thanksgiving in no time at all. Here are a few ideas to get you started:
Pinecone Clusters and Wreaths
If you live near pine tress (sorry, residents of New Mexico), you'll have no trouble getting your hands on a ton of pinecones. Once you've collected the best cones you can find, you can assemble them into a traditional autumn wreath (right), or opt for a much easier-to-make pinecone cluster, which you can then hang wherever you fancy.
---
Autumn-Themed Tabletop Centerpieces
Centerpieces focused on fall veggies—like small pumpkins, flint (Indian) corn and squash in a basket—or a decorative bowl are well-trodden paths to choose when it comes to creating an autumn-themed tabletop centerpiece. If you want to add a little extra flair to your decorations, get ahold of some Asian pear or crabapple branches and arrange them in glass vases (other types of branches work as well). These stylish yet natural-looking displays will liven up any room you place them in.
---
Corkboard Leaf Trivets
Martha Stewart is a genius when it comes to home decoration, which should come as no surprise to anyone. Stewart's idea for corkboard leaf trivets is simple, elegant and lots of fun to create. All you need is corkboard, a marker and, if art isn't your strong suit, a leaf template. If you'd like to go beyond just leaves, think turkeys, pumpkin and squash shapes, or anything else you might associate with Thanksgiving.
---
Giant Inflatable Pumpkins and Turkeys for Your Front Yard
All right, this idea might be a little kitschy, but the kids will love it. All you have to do is order a few giant inflatable pumpkins (which can also be used for Halloween) and turkeys, unpack your order, and then inflate these bad boys up. For inflatable jack-o'-lanterns, just turn the face away from the display area, and make them Thanksgiving pumpkins instead. Once your inflatable pumpkins and turkeys are full of air, your front yard will be magically transformed into a small Thanksgiving Day amusement park.
---
Cornhusk Dolls for the Kids
Here's another treat for the youngsters, and if everyone does a good job, you should have plenty of Thanksgiving-themed dolls to decorate your apartment or house with. Cornhusk dolls are pretty straightforward to make. You'll need cornhusks (obviously), water to soak the husks in, and some tying abilities. Once the basic dolls have been made, you can get a bit more elaborate and garnish them with cloth coats, hats and other festive adornments.