BreakTime BreakDown 07APR2014 – Goonies 2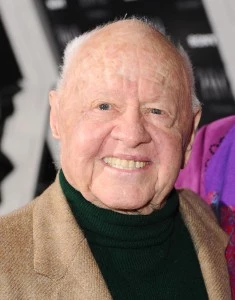 BreakTime Breakdown takes a look at whats going on around Hollywood and the world.
Mickey Rooney Passed Away
Another Hollywood legend has passed away.  Sad times Mickey Rooney was 93 and he passed away due to natural causes.  He's starred in many films including most recently night at the museum.
All Details HERE
Goonies never say die!  Looks like a sequel to the 80's movie Goonies is actually in the works.  Rumor has it they plan to bring back the original cast which included Corey Feldman, Sean Astin, and Josh Brolin.  Not gonna lie, kinda excited for that!
Full story HERE
A new app is out now called SkinneePix.  It is able to take off 5, 10, or even 15 pounds by thinning out your face using facial recognition technology.  It's on the Apple store now for $.99 and is expected to this android marketplace shortly.
Today's CELEB Birthdays– 4/7/14
~~Russell Crowe is 50 (L.A. Confidential, The Insider, Gladiator, Proof of Life, A Beautiful Mind, Master and Commander, Cinderella Man, A Good Year, 3:10 to Yuma, American Gangster, Body of Lies, State of Play, Robin Hood; Noah )
~~Actor, James Garner is 86 (Maverick; The Great Escape; The Rockford Files; Divine Secrets of the Ya-Ya Sisterhood; The Notebook, 8 Simple Rules)
~~Movie Director, Francis Ford Coppola is 75 (The Godfather movies; Apocalypse Now)
~~Action star Jackie Chan is 60. (Rush Hour movies; Shanghai Noon; The Spy Next Door; The Karate Kid 2010)
~~California Gov. Jerry Brown is 76
~~Actor/comedian Bill Bellamy (Last Comic Standing, Fastlane) is 49. (Any Given Sunday)
~~Actor/investor, Wayne Rogers is 81 (Cool Hand Luke; M*A*S*H; House Calls)
~~Actor Ed Speleers ("Downton Abbey") is 26.
~~retired NFL running back Tiki Barber, and his twin brother Ronde Barber, are 39
~~NFL legend Tony Dorsett is 60
MUSICALLY:
~~Singer John Oates (of Hall and Oates) is 65
~~Singer Mark Kibble (of Take 6) is 50
~~Drummer John Dittrich (of Restless Heart) is 63.
~~Country singer Bobby Bare is 79.
~~Singer Charlie Thomas (of The Drifters) is 77.
~~Singer Patricia Bennett (of The Chiffons) is 67
~~Singer, Janis Ian is 63