BreakTime BreakDown 14May2014 – Shaq Writing Children's Books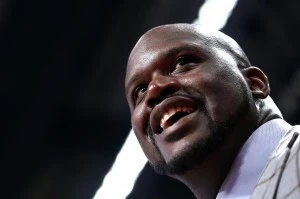 BreakTime Breakdown takes a look at whats going on around Hollywood and the world.
Pope Talks About Baptizing Aliens
Talk about strange.  Sunday during morning mass, Pope Francis used an odd example of the church's ability to accept anyone.  He said "if for example tomorrow an expedition of Martians came, and some of them came to us, here….Martians right? Green with that long nose and big ears just like the children paint them and one says 'But I want to be baptized!' what would happen?"  Apparently, he was trying to make a point that at times the catholic church can be overly judgmental when it comes to acceptance.
Shaq Now Writing Children's Books
Shaquille O'Neal we all know him as a star basketball player.  Well now he is padding his resume with children's book writer.  He is writing a new series of books called 'Little Shaq' based on childhood adventures he had with his cousin Barry.  Shaq said Education is very important to me and I love that the series will combine reading with my love of basketball.  It's a slam dunk for literacy!"
Bieber Is Still A Problem
Apparently, Justin Beiber just can't keep his nose clean.  He was out playing mini golf when he got into a shouting match.  He saw a woman with her daughter pull her phone out and demanded he get the phone from her so he could delete pictures.  When she refused he went into her purse to try and take it, eventually wrestling it away from her.  However, because it was locked he was unable to get into it.  That's it lock up your phones so Justin Beiber can't see your stuff.  After she told him her and her daughter just wanted to meet him he yelled and screamed at her 'You're humiliating yourself in front of your daughter. Why don't you just get out of here.'
Today's CELEB Birthdays– 5/14/14
~~Movie producer George Lucas ("Star Wars") is 70.
~~Facebook founder/billionaire, Mark Zuckerberg is 30
~~Actress Cate Blanchett is 45. ( The Talented Mr. Ripley, Bandits, The Shipping News, Lord of the Rings: The Two Towers, Veronica Guerin, The Missing, The Life Aquatic With Steve Zissou, Babel, Notes on a Scandal, Elizabeth: The Golden Age, The Curious Case of Benjamin Button; The Hobbit movies; Blue Jasmine)
~~Director Sofia Coppola ("Lost in Translation") is 43.  (daughter of Francis Ford Coppola; 'Somewhere'; 'Marie Antoinette')
~~Actress Amber Tamblyn ("Joan of Arcadia") is 31. (General Hospital's Emily Bowen Quartermaine, Buffy the Vampire Slayer, The Sisterhood of the Traveling Pants; 127 Hours; House, M.D.; Two and a Half Men)
~~Actress Miranda Cosgrove ("iCarly") is 21. (Despicable Me)
~~Writer/director Robert Zemeckis is 63.  (Back to the Future movies; Cast Away; many more)
~~Actor Tim Roth is 53. (Pulp Fiction; Reservoir Dogs; Lie To Me)
~~Actor, Danny Huston is 52 (X-Men Origins: Wolverine; Robin Hood 2010; Son of John Huston)
~~Baseball All-Star, Roy Halladay is 37
~~NFL star, Clay Matthews is 28
~~Baseball legend, Tony Perez is 72 (Cincy Reds)
~~NFL analyst, Tony 'The Goose' Siragusa is 47
~~Sports anchor, Suzy Kolber is 50
MUSICALLY:
~~Singer-bassist Jack Bruce (of Cream) is 71.
~~Singer/songwriter David Byrne (Talking Heads) is 62.
~~Guitarist C.C. DeVille (of Poison) is 52.
~~Singer Ian Astbury (of The Cult) is 52
~~Bassist Mike Inez (of Alice in Chains) is 48.
~~Bassist Mike Retondo (of Plain White T's) is 33.
~~Fake singer, Fabrice Morvan (of Milli Vanilli) is 48
~~Singer Raphael Saadiq (Tony! Toni! Tone!) is 48
~~Singer Danny Wood (of New Kids on the Block) is 45
~~Singer Shanice is 41. ("I Love Your Smile")
~~Guitarist Henry Garza (of Los Lonely Boys) is 36.
~~Singer/songwriter, Tom Cochran is 61 ("LIfe Is A Highway")
~~Musician, Gene Cornish (The Rascals) is 70