BreakTime BreakDown 17APR2014 – Mrs Doubtfire 2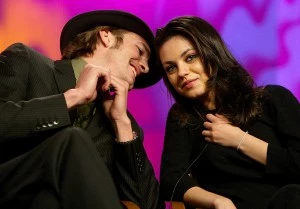 BreakTime Breakdown takes a look at whats going on around Hollywood and the world.
Mila Kunis Ashton Kutcher Expecting A Daughter
Mila Kunis and Ashton Kutcher are engaged and expecting a baby.  well now sources say that the couple is expecting a baby girl and Kutcher is very excited to have a daughter on the way.  It is important to note that neither Ashton nor Mila Kunis have confirmed that they are even pregnant.
Here's a little dose of Nostalgia, Mrs. Doubtfire.  The movie where Robin Williams character pretends to be a Scottish nanny in order to see his kids, has a sequel in the works.
We might not want to get our hopes up though.  Mrs. Doubtfire 2 was supposedly in the works back in 2001 as well.
Snoop Dogg Lends Voice To Video Games
More than likely either you or someone you know play video games.  Many different stars in Hollywood have lent their voices for the games and even cartoons.  The popular franchise Call of Duty is now having Snoop Dogg do some voice overs for them as well. Snoop will be doing voice overs for a new DLC pack that will allow the player of Call of Duty: Ghosts to hear Snoops voice when playing multiplayer matches.
You can check out the video and more about the story HERE
Today's CELEB Birthdays– 4/17/14
~~Actress, Jennifer Garner is 42 (Alias' SD-6/CIA Agent Sydney A. Bristow; Deconstructing Harry, Washington Square, Dude Where's My Car, Pearl Harbor, Daredevil, 13 Going On 30, Elektra, Catch and Release, The Kingdom, Ghosts of Girlfriends Past; Juno; Dallas Buyers Club; Draft Day; married to Ben Affleck)
~~Actor Sean Bean ("Lord of the Rings") is 55. (Goldeneye; Game of Thrones; many more)
~~Actress Rooney Mara (The Girl with the Dragon Tattoo) is 29. (The Social Network; A Nightmare on Elm Street (2010; Side Effects; Her)
~~Actress, Kimberly Elise is 47 (Close to Home; John Q; Diary of a Mad Black Woman)
~~Actress, Lela Rochon is 50 (The Wayans Bros., Waiting To Exhale, Why Do Fools Fall in Love; worked in over 20 Bud Light ads; Any Given Sunday)
~~Actress, Kristine Sutherland is 59 (Buffy The Vampire Slayer; Honey, I Shrunk the Kids)3
~~Former NFL QB/now TV analyst, Boomer Esiason is 53
~~WWF legend, 'Rowdy' Roddy Piper is 60
MUSICALLY:
~~Singer Victoria Beckham (of the Spice Girls) is 40.
~~Singer Maynard James Keenan (of Tool and of Puscifer) is 50.
~~Singer Liz Phair is 47.
~~Rapper-actor Redman is 44.
~~Rapper/producer, Afrika Bambaataa is 57
~~Composer-musician Jan Hammer is 66.
~~Singer/musician, Michael Sembello is 60 ("Maniac")