BreakTime BreakDown 26MAR2014 – Zombie Cologne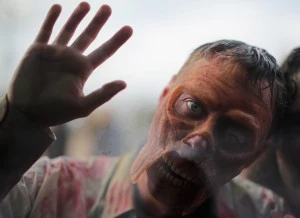 BreakTime Breakdown takes a look at whats going on around Hollywood and the world.
Zombie Cologne/Camouflage
I love this story, A chemist has been developing a death cologne.  The point is to smell like a rotting body, so the zombies don't smell you.  Basically Zombie camouflage.  She has been trying to use chemistry since 2011 for different ways to survive the zombie apocalypse.  Eau De Death (the name of the cologne) combines a couple of chemicals that are given off naturally when bodies decompose.  So it legitimately smells bad.
Just another step towards Starbucks taking over the world.
Men Taking Naked Pictures Wearing A Sock
New viral picture trend.  Men are posting pictures of themselves wearing only a sock.  The only thing is the sock isn't on either of their feet.  It has blown up over the last week as a trend to help promote testicular cancer awareness.  If you want, you can see some of the pictures by searching the hashtag #cockinasock
Just a heads up though some of those pictures will probably be NSFW.
You can read the whole story HERE
Kanye Makes Kim The King Of Burgers
So, I'm totally over the whole Kanye West Kim Kardashian thing, but this is just weird.  Kanye's wedding present to Kim, you'll never guess.  He bought her 10 Burger king stores.  Apparently since Kim already has all the jewelry and things like that Kanye had to think outside of the box.
Such an odd wedding gift.
You can read the whole story HERE
Today's CELEB Birthdays– 3/26/14
~~Actress, Keira Knightley is 29 (Pirates of the Caribbean, King Arthur, Bend It Like Beckham, Pride and Prejudice, Dead Man's Chest, At World's End, Atonement; Jack Ryan: Shadow Recruit)
~~Actor, Leonard Nimoy is 83 (Star Trek's original Spock; host of 'In Search Of…')
~~Actor, Martin Short is 64 (The Completely Mental Misadventures of Ed Grimley, Maniac Mansion, Martin Short Show, Father Of The Bride II, Mars Attacks, Mumford, The Escape Clause)
~~Actress Jennifer Grey (Dirty Dancing) is 54. (Ferris Bueller's Day Off; Red Dawn)
~~Actress, Amy Smart is 38 (Road Trip; The Butterfly Effect; Crank; Just Friends; Shameless; Break Point; Justified)
~~Actress, Leslie Mann (Knocked Up) is 42 (The 40 Year Old Virgin; 17 Again; Funny People; This is 40; The Bling Ring)
~~Actor Michael Imperioli is 48. (The Sopranos)
~~Actor, Billy Warlock is 53 (Days of Our Lives' Frankie Brady/Francois von Leuschner, Baywatch, General Hospital's A.J. Quartermaine, Young & The Restless' Ben Hollander)
~~'To Catch A Predator's Chris Hansen is 55
~~Retired Supreme Court Justice, Sandra Day O'Connor is 84
~~Congresswoman Nancy Pelosi, is 74
~~Former Utah Gov./prez candidate, Jon Huntsman is 54
~~Actor, Alan Arkin is 80 (Edward Scissorhands; Grosse Pointe Blank; Get Smart 2008; Argo;  Little Miss Sunshine; many more)
~~Actor, James Caan is 74 (The Godfather; Las Vegas; Misery; Elf)
~~TV personality, Leeza Gibbons is 56
~~Actor, T. R. Knight is 41 (Grey's Anatomy)
~~Actress, Vicki Lawrence is 65 (Carol Burnett Show; Mama's Family; Hannah Montana)
~~Actor Ernest Thomas ("Everybody Hates Chris," "What's Happening") is 65
~~NFL legend, Marcus Allen is 54
MUSICALLY:
~~Singer, Steven Tyler (of Aerosmith) is 66.
~~Singer Diana Ross is 70. (The Supremes; solo)
~~Guitarist James Iha (Smashing Pumpkins) is 46.
~~Rapper, J-Kwon is 28
~~Country Singer, Kenny Chesney is 46
~~Country Singer, Dean Dillon is 59
~~Country singer Ronnie McDowell is 64
~~Country singer Charly McClain is 58
~~Drummer Monte Yoho (of The Outlaws) is 62.
~~Musician,  Richard Tandy (of Electric Light Orchestra) is 66