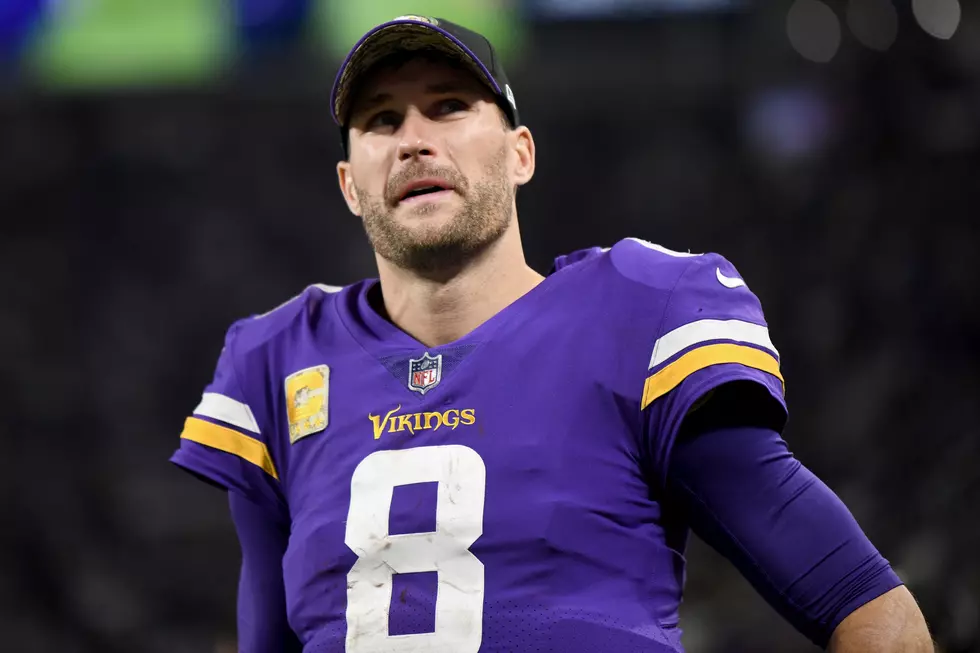 Kirk Cousins Surprises Former Athlete With All-Terrain Wheelchair
Getty Images
Here we go with Kirk Cousins doing something incredibly nice for someone again. I want to bust him so bad because I have said time and time again that I think he is a robot, well on the field at least but man he seems like he is genuinely one of the nicest guys in the league.
Cousins like most athletes especially being in a contact sport like football must always have in the back of their mind the worry of getting injured. Whether it is a temporary or god forbid career ending, it is all part of the mental toughness of being an athlete and going out and competing.
Six Years ago Matt Olson who grew up in Isanti Minnesota was playing in a hockey tournament in a Chicago suburb as co-captain of the Chicago Cougars, a team in the United States Premier League. Suddenly Olson hit a rut in the ice and went face-first into the boards. He suffered a fracture of his C4 vertebrae and is paralyzed from the chest down.
in 2019 Olson had a chance to meet Cousins for the first time and they hit it off immediately with a shared love of athletics and midwest roots. Olson said to Vikings.com
I noticed right away how down-to-earth he is. He's just like everyone else, and he doesn't let his job status or what he is as an NFL player get in the way of how nice he is. I love watching him play.
Olson is close to getting his degree in environmental science and is looking forward to spending his career out in the elements, but with the weather and terrain in Minnesota, this can pose a huge challenge. That is where Cousins stepped in.
Cousins invited Olson back for a  Saturday-morning walk-through last weekend and after visiting with other players and Vikings staff Cousins revealed a brand new all-terrain wheelchair called ACTION TRACKCHAIR for Olson which is all decked out in Vikings colors.
Cousins said: "You see [these injuries happen], and you understand how much it can impact life moving forward, and Matt has so much life ahead of him. When we heard [about his] passion for the outdoors, and the wheelchair can limit that, but that there is an answer and there's equipment that can allow you to be outside and be active and get over different terrain – especially in our climate here in Minnesota – it just seemed like a no-brainer to help him. And not put a ceiling on what he could do and maybe the career he could pursue."
Olson had said that he knew about these chairs and it was a long way down the road pipe dream to maybe have a chair like that someday. What a great gift to help Olson pursue his dreams and be able to help him get around in his future career.
Through The Years: Minnesota Vikings Playoff Appearances From 2000-2020
The Top Ten Fan Bases In The NFL