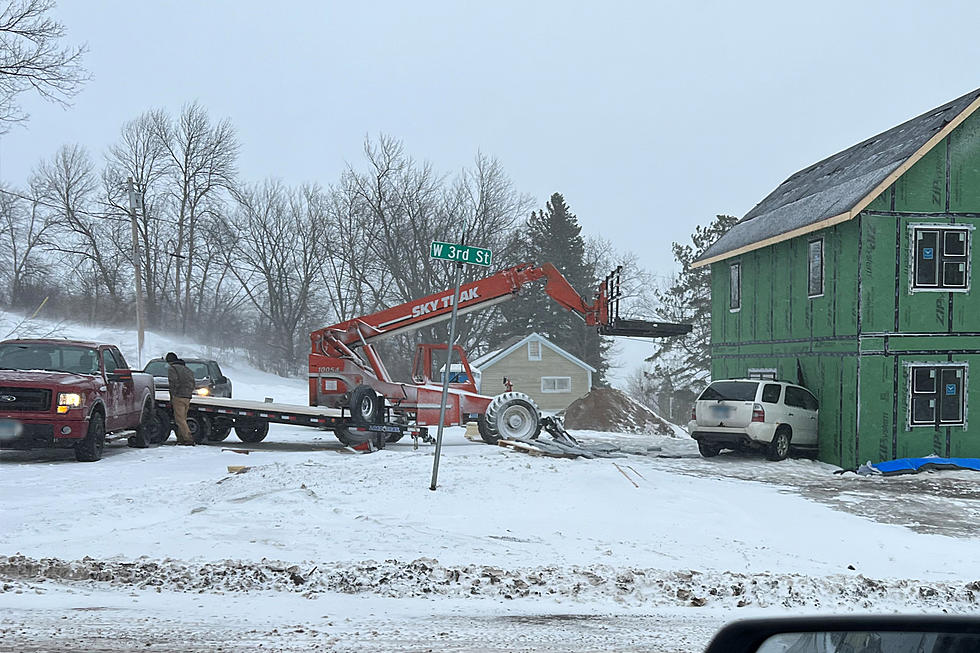 SUV Crashes Into Duluth House As Road Conditions Deteriorate From Storm
Nick Cooper - TSM Duluth
A late-season winter storm is bearing down on the Northland, bringing strong wind, low visibility, and a cocktail of mixed precipitation that is making roads slippery and dangerous.
Road conditions have been deteriorating across the Northland through the afternoon, with crashes occurring across the region as a result. The Duluth Police Department shared a note on their Facebook page just after 2 pm, warning of slippery conditions and a number of crashes around town.
As part of their message, the DPD implored drivers to "put down distractions, allow yourself enough room to stop, turn on your headlights, and drive slow!" as conditions worsen.
One of the crashes the department responded to Tuesday afternoon was a multi-car accident at the intersection of Arrowhead Road and Kenwood Avenue, near the Holiday gas station and Cooked Pint restaurant.
Another incident the Duluth Police Department responded to on Tuesday afternoon was that of a single-vehicle accident, where an SUV crashed into a building in the area of Observation Park.
The building, which is still in the process of being built, is just to the west of the intersection of where 10th Avenue West meets with West 3rd Street, as marked in the image below.
Two police cars were on the scene at the incident at 5 pm Monday, where a white SUV had crashed into an exterior wall of the structure. While the home is not yet occupied due to construction, it is unknown if any workers were on the scene when the SUV collided with the building. There were a couple of trucks and a lift on the scene at the time of the incident.
While it is unknown at this time if this particular incident is also the result of slippery road conditions, it is certainly possible the driver may have lost control of the vehicle, as the building is downhill from both West 3rd Street and 10th Avenue West from the direction the SUV appeared to be traveling from.
Conditions are expected to get worse through Tuesday night and into Wednesday morning, as additional mixed precip, snow, and ice are expected to fall. Some area schools have already started making announcements related to Wednesday classes due to the weather. You can follow the latest closings and other weather announcements here.
6 Vital Reminders Every Minnesotan Should Know If You Have To Drive During A Snowstorm
While you should avoid hitting the road during a snowstorm, sometimes it can't be avoided. If you find yourself in a situation where you need to drive during a storm, here are some crucial reminders from the Minnesota State Patrol.