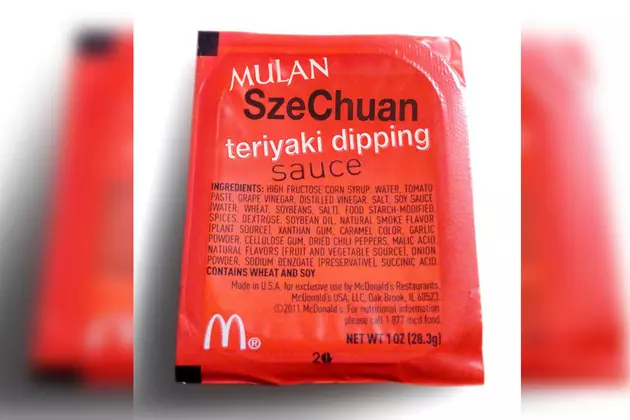 What's Up With The Random McDonald's Szechaun Sauce Craze?
sirepicnugget via eBay
Thanks to the recent premiere of Adult Swim's Season 3 of 'Rick and Morty' everyone is going crazy over McDonald's limited edition Szechaun sauce from the 1998 premiere of Disney's 'Mulan'.
Every where I look everyone seems to be going crazy over a McDonald's sauce that hasn't existed in over 18 years. After some doing some research  I can say 'Rick and Morty' is to blame thanks to the surprise season 3 premiere over the weekend.
Apparently some people have somehow kept the sauce after all these years and are now selling it on eBay. I was seven years old when the sauce was released, so I don't remember much. But I'm pretty sure I need that sweet Chinese zest back in my life for my Mcnuggets.
I'm sure it's no surprise, but I love 'Rick and Morty'. Towards the end of the premiere, Rick goes:
I'm not dirven by my dead family...I'm driven by finding that McNugget sauce. I want that 'Mulan' McNugget Sauce. ... That's my series arc, Morty. If it takes nine seasons, I want that McNugget Szechuan sauce.
I love that we live in a world where an animated show can bring back memories and start a sauce revolution. Let me know in the comments what you think about bringing the Szechaun sauce back from McDonald's.