New Music Out This Week: Bruno Mars, Green Day and The Game [VIDEO]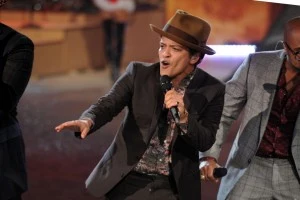 Oh Happy Day, some great stocking stuffers for the music fan on your list, with my personal fave Bruno Mars! Have you ever waited with baited breath for your favorite artist to release some new music, it is so fun when it finally happens.
1.) Bruno Mars     "Unorthodox Jukebox"  -Once again no words can describe my excitement. His voice is like butter, and his style is beyond cool. He is the type of guy that does not even need to try it just oozes out of him.
Subscribe to MIX 108 on
2.) Green Day     "¡Tré!" (part three of a trilogy of albums)-Green Day Fans your new collection is now complete.
3.) The Game     "Jesus Piece" (guests: Kanye West, Common, Chris Brown, Tyga, Wiz Khalifa, Lil Wayne, Kendrick Lamar, 2 Chainz, Rick Ross, Jamie Foxx)-Could he have gotten more people on this album? Gotta admit I love the new reality show married to The Game, gives you a whole new side to this man.
Other Releases This Week:
–Glee Cast     "Glee the Music: The Christmas Album, Volume 3 [TV soundtrack]"
–Boys Like Girls     "Crazy World"