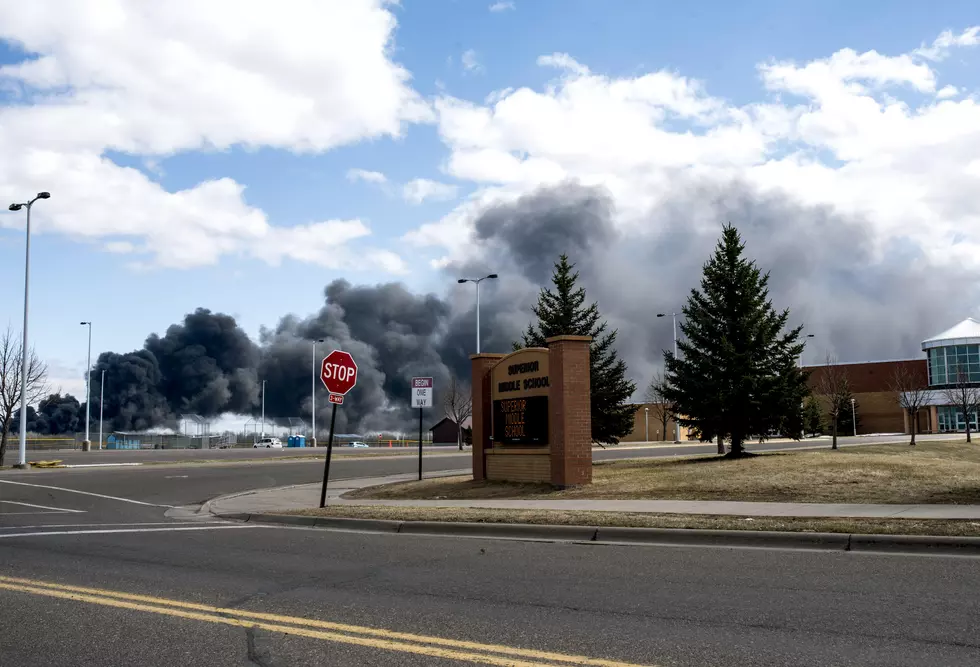 Duluth Mayor Emily Larson Calls On Husky Energy To Stop Using Dangerous Chemical At Superior Refinery
Getty Images
In the whirlwind of events last Thursday during the fire at Husky Refinery in Superior, you may have heard a couple reporters ask questions about hydrogen fluoride, or HF during press conferences. Unless you already knew what this is, it was likely an inconsequential question that meant nothing to you as the fire burned seemingly almost out of control, a plume of black smoke billowed, and a majority of the town was evacuated.
Since then, clarity has been brought to why questions about hydrogen fluoride were being asked and why you, as someone that lives within a several miles of this refinery should care. Duluth Mayor Emily Larson has now joined in the conversation, posting a message on her Facebook page about her concerns (seen below).
If you haven't heard, hydrogen fluoride is described as "a colorless, corrosive gas or liquid made up of a hydrogen atom and a fluorine atom. When hydrogen fluoride is dissolved in water, it is called hydrofluoric acid. Hydrogen fluoride is an industrial raw material used in the manufacture of products including refrigerants, gasoline and aluminum." It is used at the refinery in Superior as part of the high-octane fuelmaking process.
A serious concern was that if the storage tank where the hydrogen fluoride had been was impacted by the explosions or fire nearby at the refinery that it could have released the gas to cause significant harm to the public. As the Duluth News Tribune describes, "Breathing in hydrogen fluoride at high levels, or in combination with skin contact, can cause death from an irregular heartbeat or from fluid buildup in the lungs. The gas can also cause blindness by rapid destruction of the corneas." MPR shared a quote from retired scientist Ron Koopman describing the dangers of HF, saying "If you get it on your skin, it works its way toward the bone destroying all of the tissue in between."
Officials have explained that evacuations Thursday were made with the potential risks of hydrogen fluoride in mind, and that a potential release of the chemical was considered the worst case scenario.
The storage tank, which was holding 15,000 pounds of the roughly 75,000 pounds it usually holds, was able to be protected by fire crews as part of their defensive firefighting efforts through the day on Thursday.
In followup press briefings, both Superior Mayor Paine and and refinery manager Kollin Schade said the use of HF at the Superior refinery will be further examined, as alternative technologies and chemicals do exist.
Duluth Mayor Emily Larson wrote a Facebook post Tuesday afternoon, expressing her concern about the use of HF in the Twin Ports. She called the explosion a "a clear call to action", citing how this traumatic event could have been much more catastrophic, potentially threatening the health of the entire Twin Ports area. At the end of her post, she calls for a commitment to seek the use of a safer alternative at the refinery. you can see her entire post below.