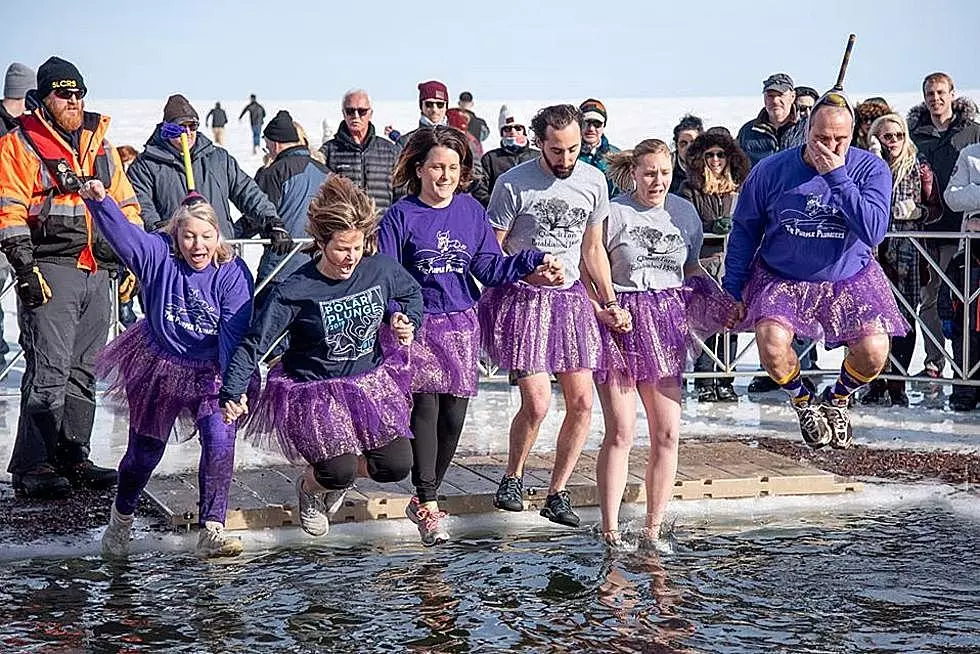 Kerplunk! Get Your Team Together For The Annual Duluth Polar Plunge
Photo: Nick Cooper/TSM Duluth
For anyone who has jumped into Lake Superior even in the Summer, it can feel like a badge of honor because it is darn cold. Let's jump, (no pun intended) to winter and February when the temperatures are freezing cold and the water is too and usually covered in ice. Welcome to Polar Plunge time.
All of us at MIX 108 is excited and honored to be a partner again this year. It is time for the 23rd Annual Plunge with the goal of raising $145,000! That is a lot of money but we can do it with your help. Last year we had 575 Plungers and raised $136,731! All of the money raised goes to Special Olympics athletes in the Northland.
This money helps pay for equipment, travel, training, and more for these amazing athletes. So how does this all work? The key is to try and raise as much money as you possibly can. Many people that plunge put together a team, but you can plunge with one other person or by yourself you just need to make sure you get some pledges.
The plunge date is Saturday, February 18 starting at 12 Noon on Park Point. Everyone is encouraged to take the free shuttle since parking is at a premium. The shuttles leave from The Garden In Canal Park. At the plunge site, they will have heated changing tents and fire pits to keep you warm before and after the plunge. Everyone will have a designated time slot for when they are plunging.
According to their website, " Plunge timeslots open approximately three days before the in-person Plunge date. Any teams/individual participants not signed up by noon on the Friday before the Plunge will be automatically assigned a timeslot."
You also get cool merchandise depending on how much money you raise like sweatshirts, t-shirts, hats, and even jackets! Also, the Duluth Plunge is the only one in the state where we have a live stream of the plunge along with our very own photographer getting some amazing pictures. So, you can let friends and family know they can watch you plunge on the MIX108 website or MIX108 App! Here is a look at the plunge from 2022, it is truly so much fun once you have done it you will be back every year!
Best Minnesota State Parks To Avoid Big Crowds
While iconic state parks like Itasca, Gooseberry, and Fort Snelling draw massive numbers of visitors each year, there are a lot of awesome state parks and recreation areas around Minnesota that offer fantastic outdoor or camping experiences without the high number of visitors. Give these a look!
5 Best Outdoor Skating Rinks In Duluth